Hello My friend,
I am going to explain you how easily you can build your website using DotcomPal.
Before I proceed let me give you a short description about DotcomPal.
DotcomPal is beyond just building funnels & landing pages, websites and sending emails. With DotcomPal, everything lives in one place so you can get started quick and build more, sell more, and grow more online.
From creating a professional business Website to understanding and engaging the customers at various touch points, manage everything from a single dashboard.
Once you login to your DotcomPal account, on the dashboard you will see a business overview which gives you an updated summary on daily basis how your business and its campaign are performing. Beneath that you will see some points in which we have explained the steps which you need to follow to build your business online.
On the left menu bar you will see many options like Build, Sell, Grow, Audience, Analytics etc.
In this video I am showing you that how you can build your website with DotcomPal so click on this Build option here.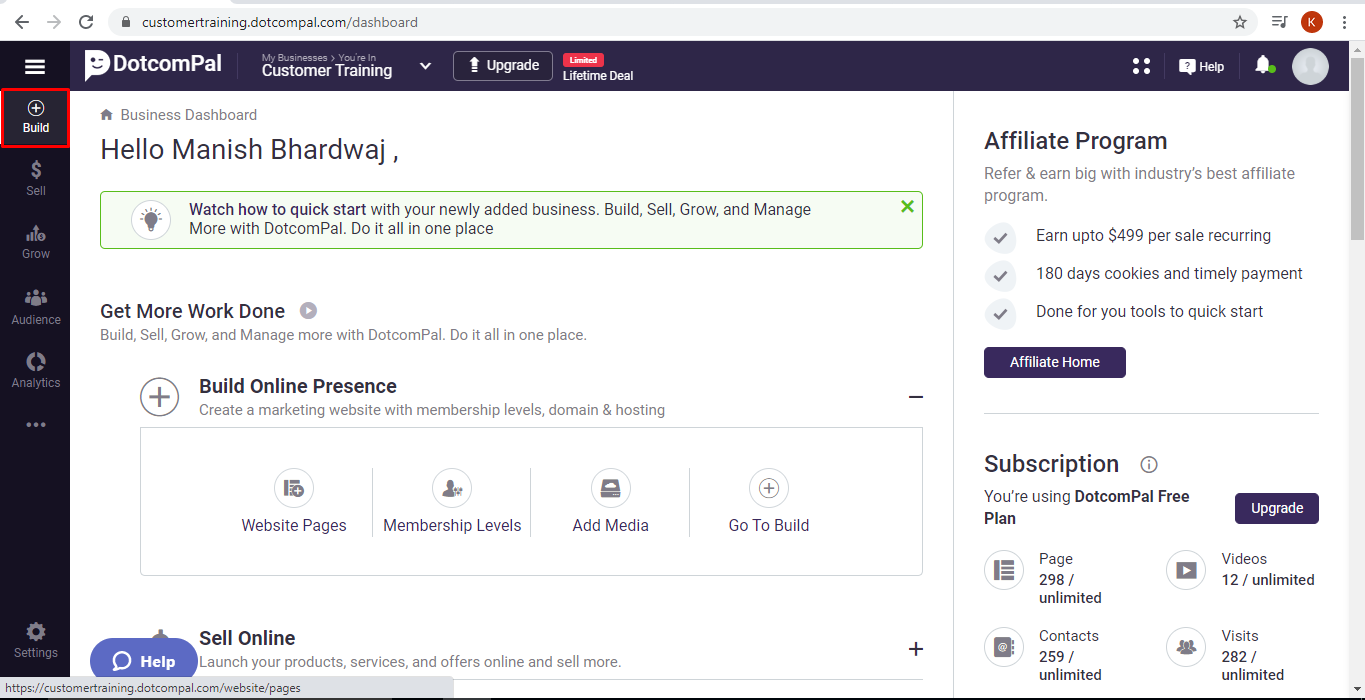 A Website Wizard page will be open in front of you from where you can manage your website pages.
Here on the left-hand side, you will see options like Website, Memberships, Design and Settings
And in the center, you can see its says 'Lets first setup your website and Get Online.' It means first you need to setup or complete the initial steps of your website wizard and you will be Online.
Or in case if you already have a website, you can use this connect now option to connect your site with DotcomPal to publish dynamic popups & bars on your website with personalized offers/lead forms to boost website engagement and conversions.
Here as I am creating my own website so I am clicking on this button "Setup A site".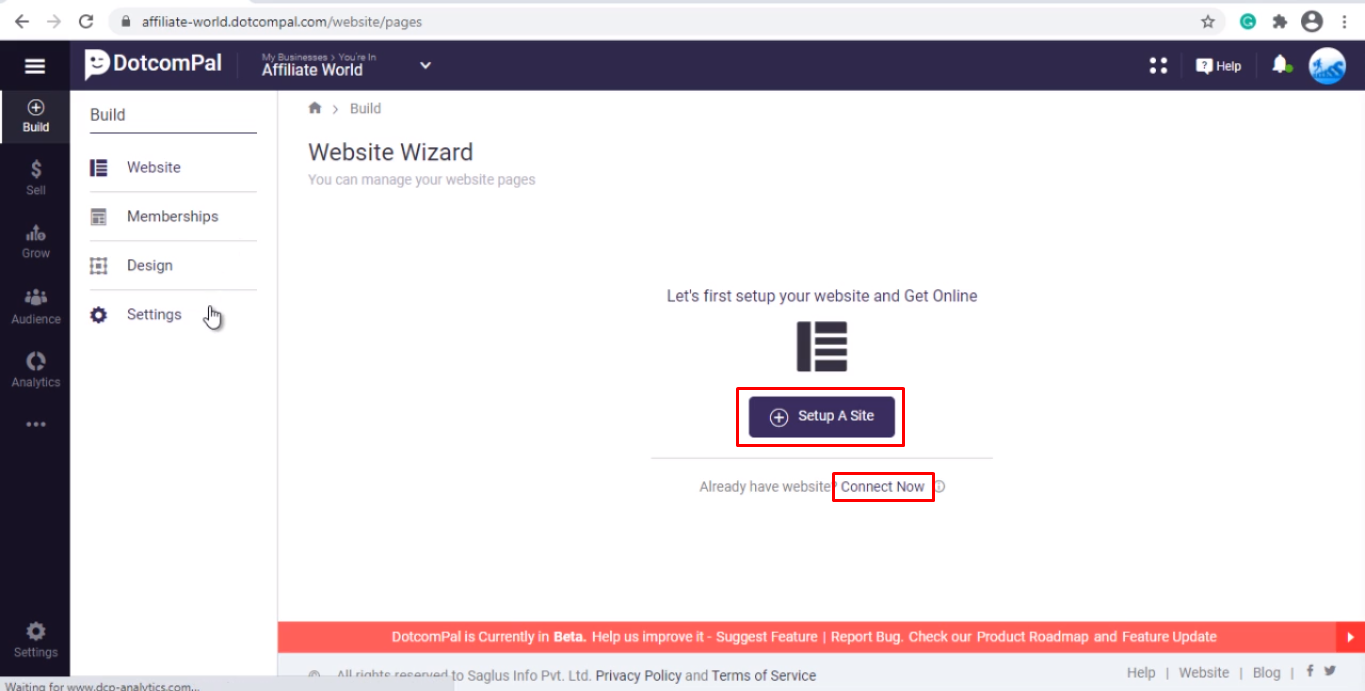 It will ask to choose your website theme. As of now we have only one theme so I am selecting this AffiliatePal Theme but soon you will see many more themes coming here.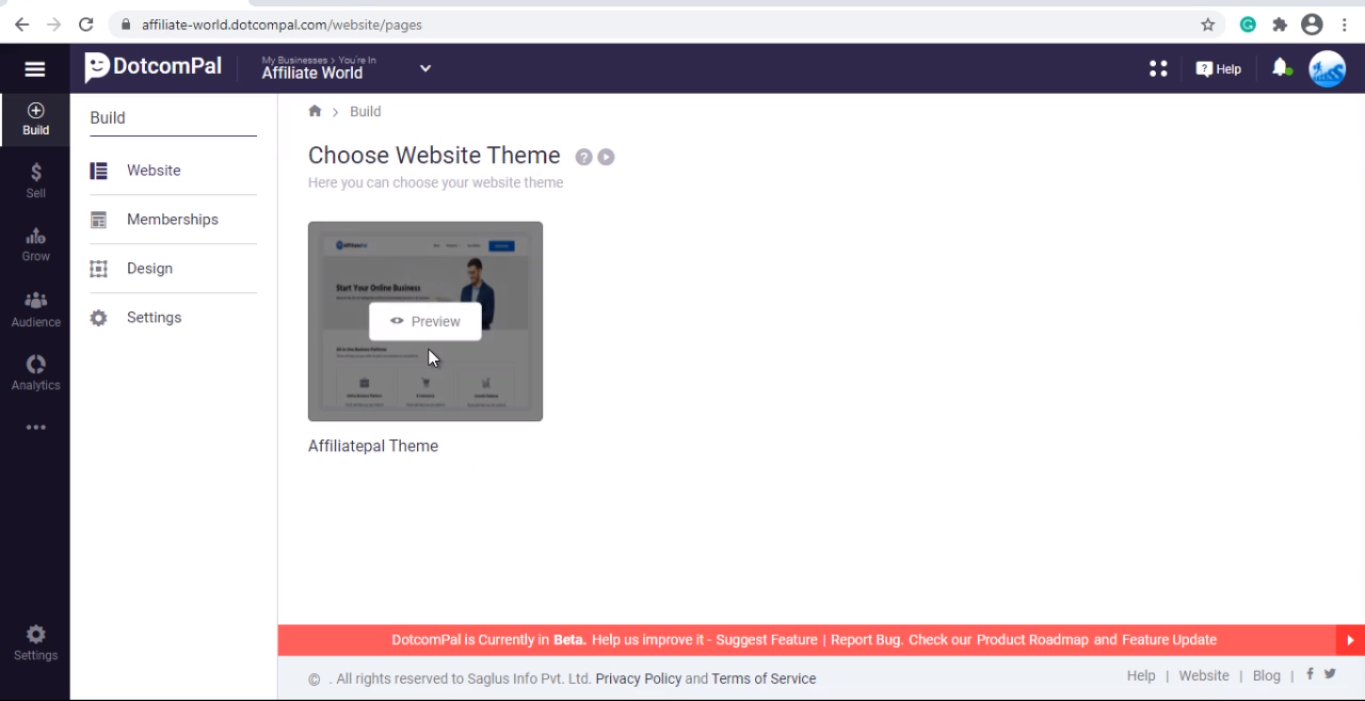 Now by clicking on this theme you can see the preview of this website theme.
You can see the preview of complete site page is here. At top you can see the header of your website, then main content of your site in center and in last you can see the footer section of your website.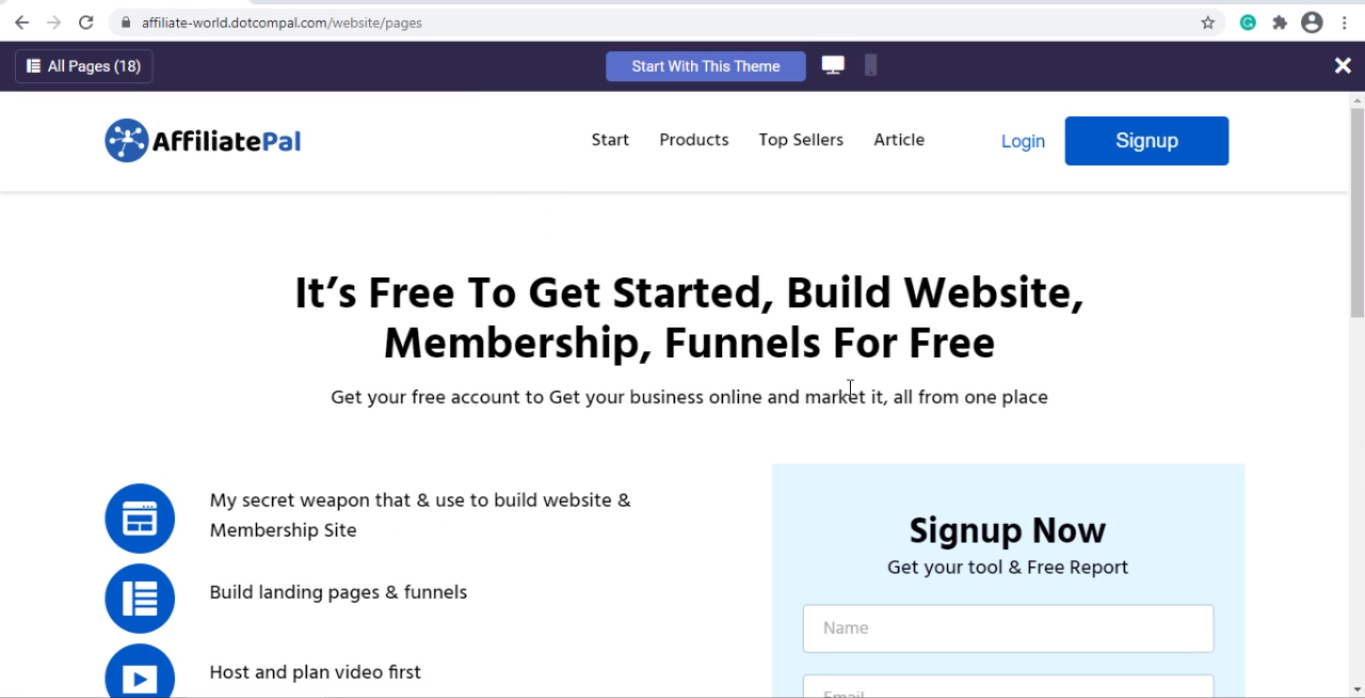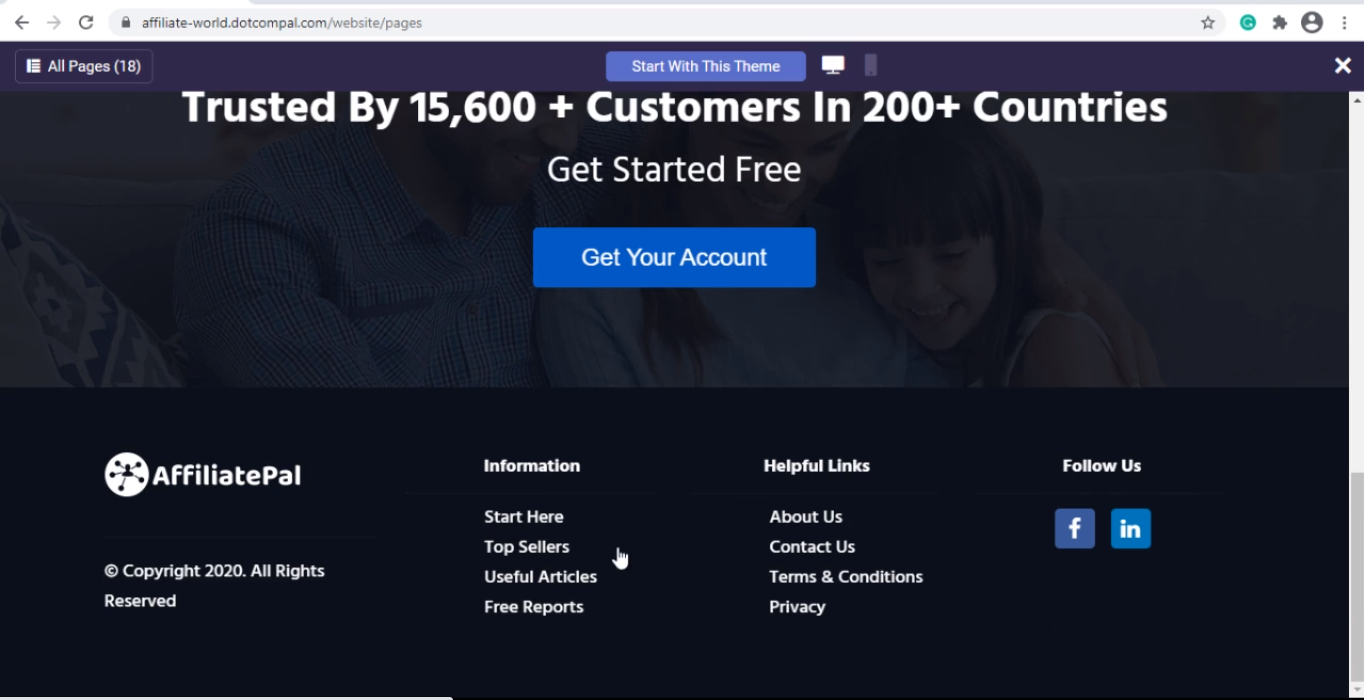 By clicking on this All Page button, you will see all the pages which you can use in this site.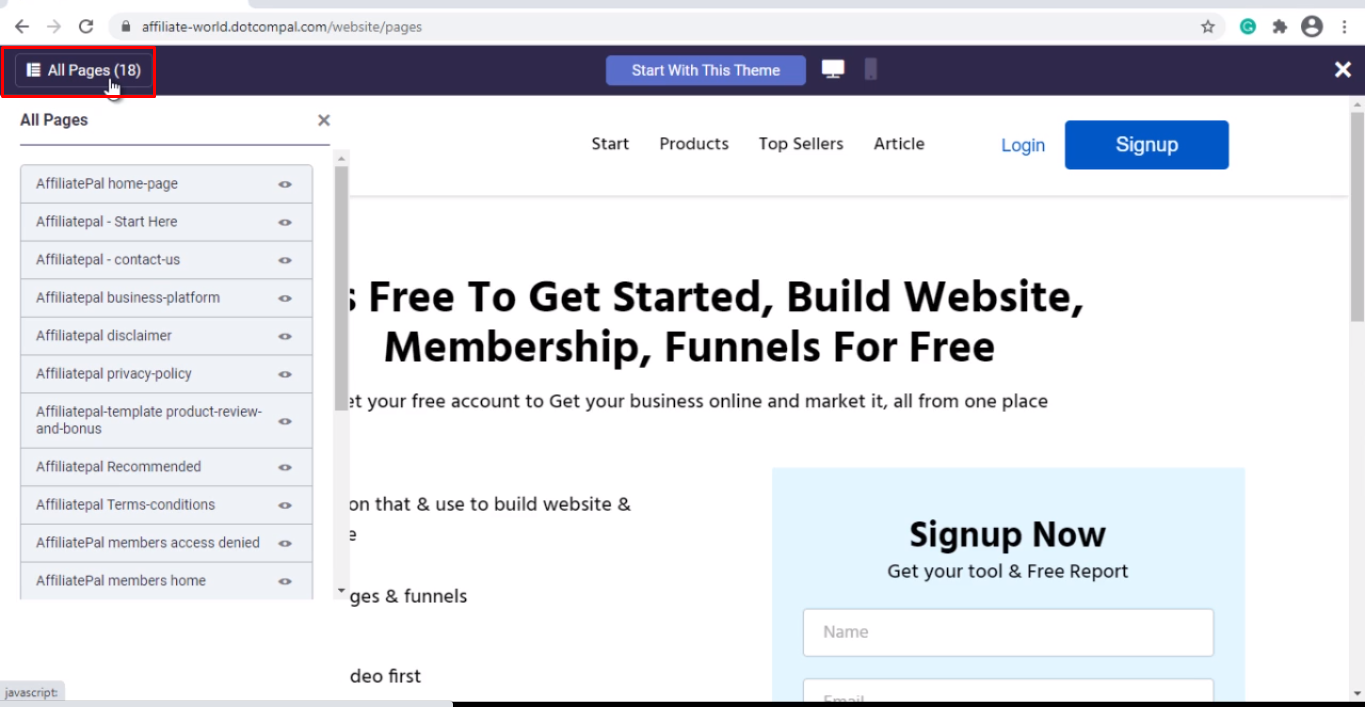 By clicking on these different devices' options, you can see the preview of website in desktop view, tablet view, landscape view in table, then mobile view, and landscape view in mobile.
By this you will get an complete idea that how you website looks in these different devices and you can make your website more user friendly and responsive as per the devices.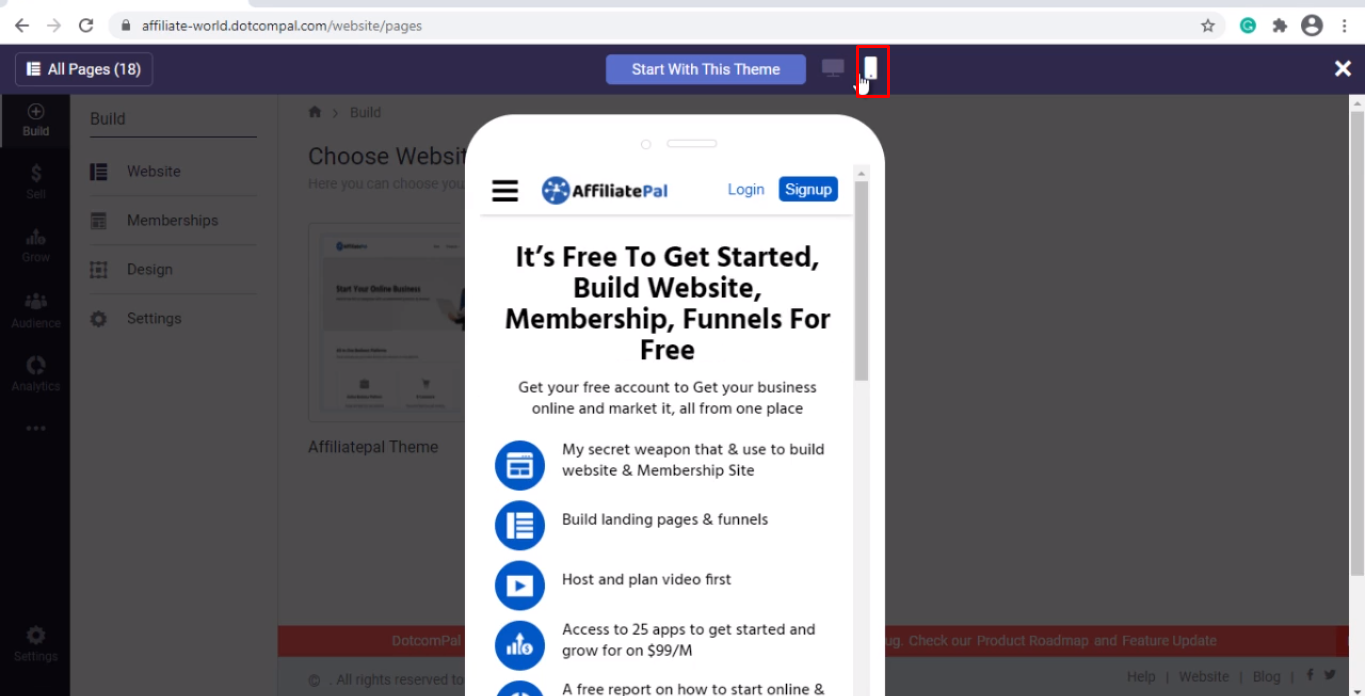 Now, click on this Start with this theme option to start creating your site.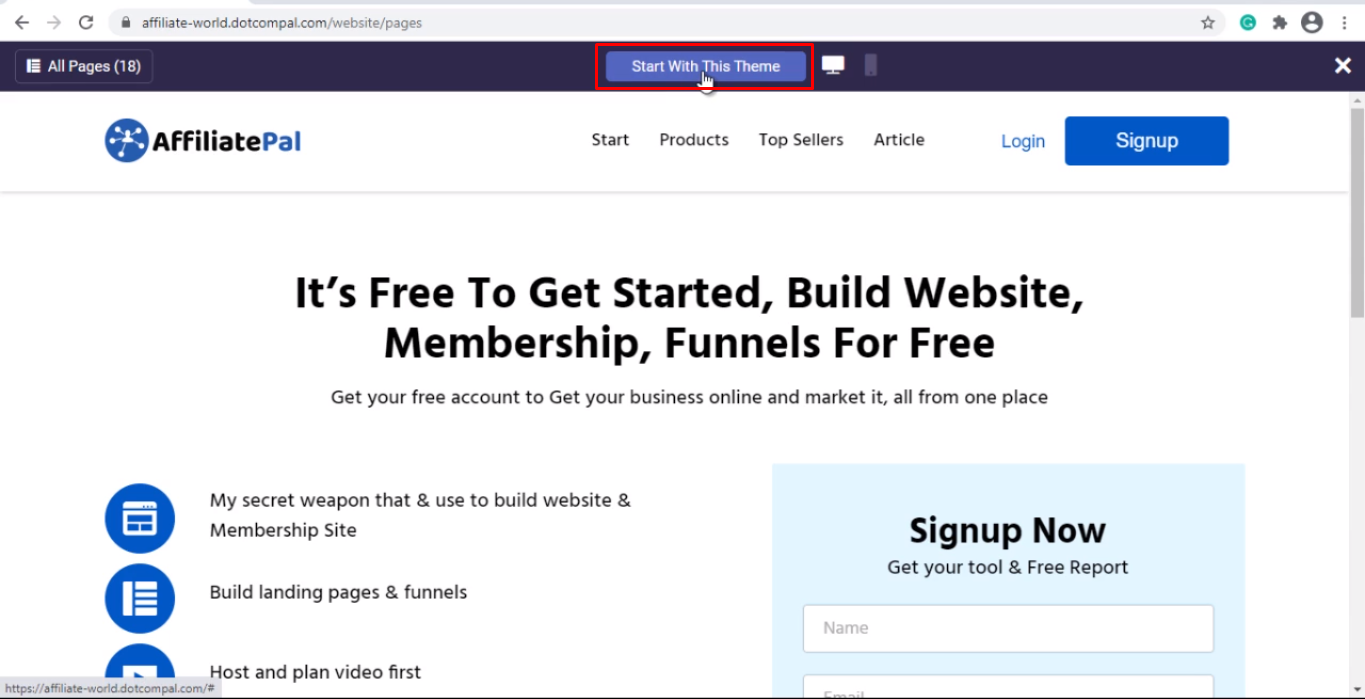 On the left hand side, you will set up your website wizard and you can see its completed 20% already
Now first you need to setup the Appearance of your website.
You can select your Global appearance for the website. It means the changes you make over here will apply to your whole website.
Here you can select Template styling or Affiliate style Global Appearance from the dropdown or you can also add your own appearance by using the plus button.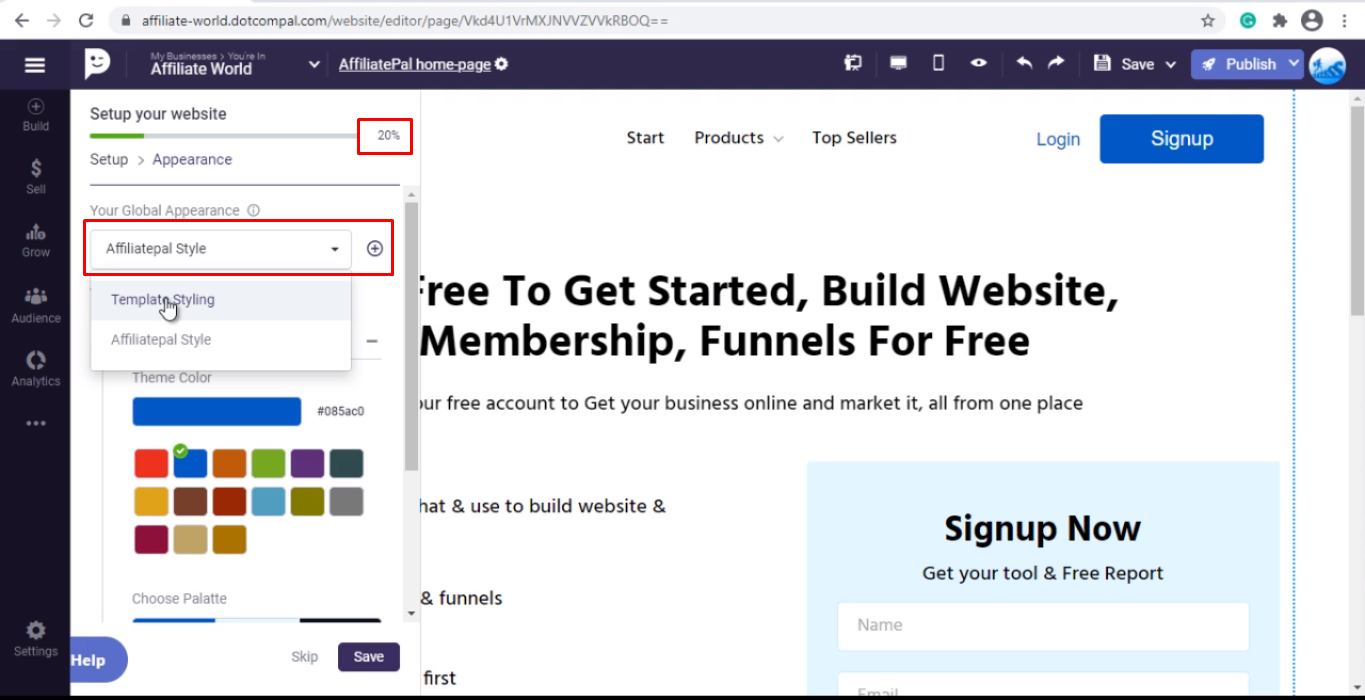 Then you can choose the Theme Colors and Palatte for your theme. Here you will see three combination of Palate color to choose of the Color you choose for your Theme.
Let's say I am choosing this Green Color for theme then it gives me three combinations of green color of Palette.
Once choose click on this Save button or you can also skip it if you want to do later.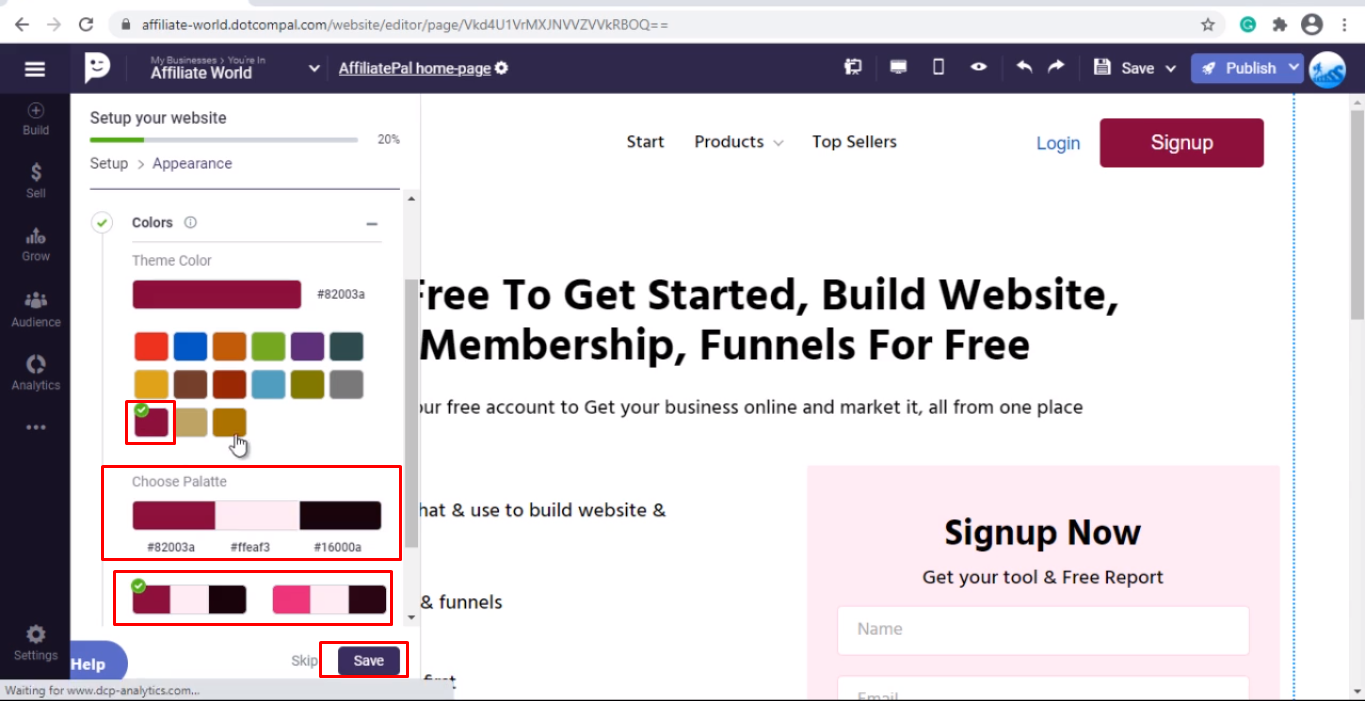 My friend,
You can see now its completed 40% and now in second step you can select the header of your site. Currently there is only On header so its auto selected but soon you will see many more headers coming here from which you can select your desire header.
Now I am clicking on Save.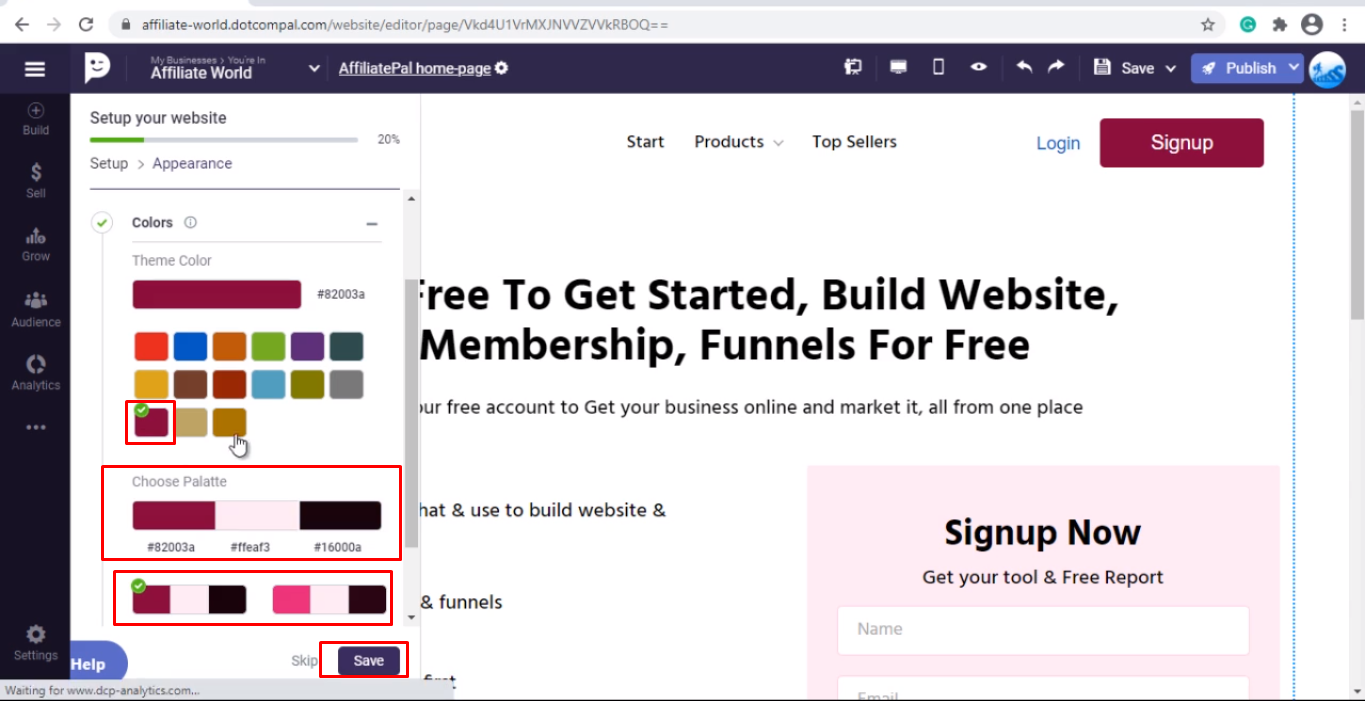 In third step you can select the Footer for your Theme. Here also many more Footer options will be coming soon which you can select for your website theme.
Currently I am Clicking on Save.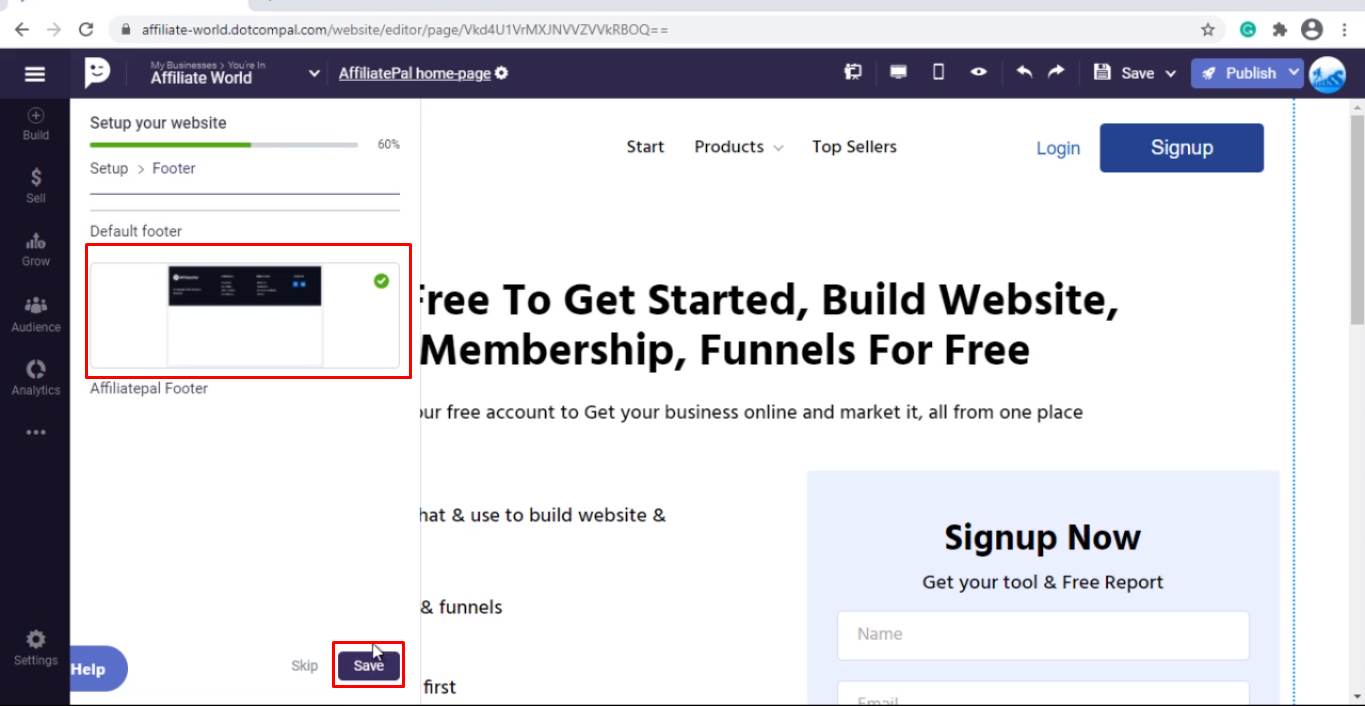 In The last step you will see status of your all the pages which are available in this Theme. Your all Pages are published and if you want to view these pages you can see them by click on this View icon under Actions.
You can see here that your website is 80% complete and now you are just one step away to go online.
So just click on this Save button
and you will see the Popup Bar with message "Congratulations"
You have just created your website with an awesome theme for your business.
Now to view your Website you can click on this View Website option else you can click on this Continue Editing button to continue the editing on your website.
I am clicking on this Continue Editing button now as I want to edit my website more.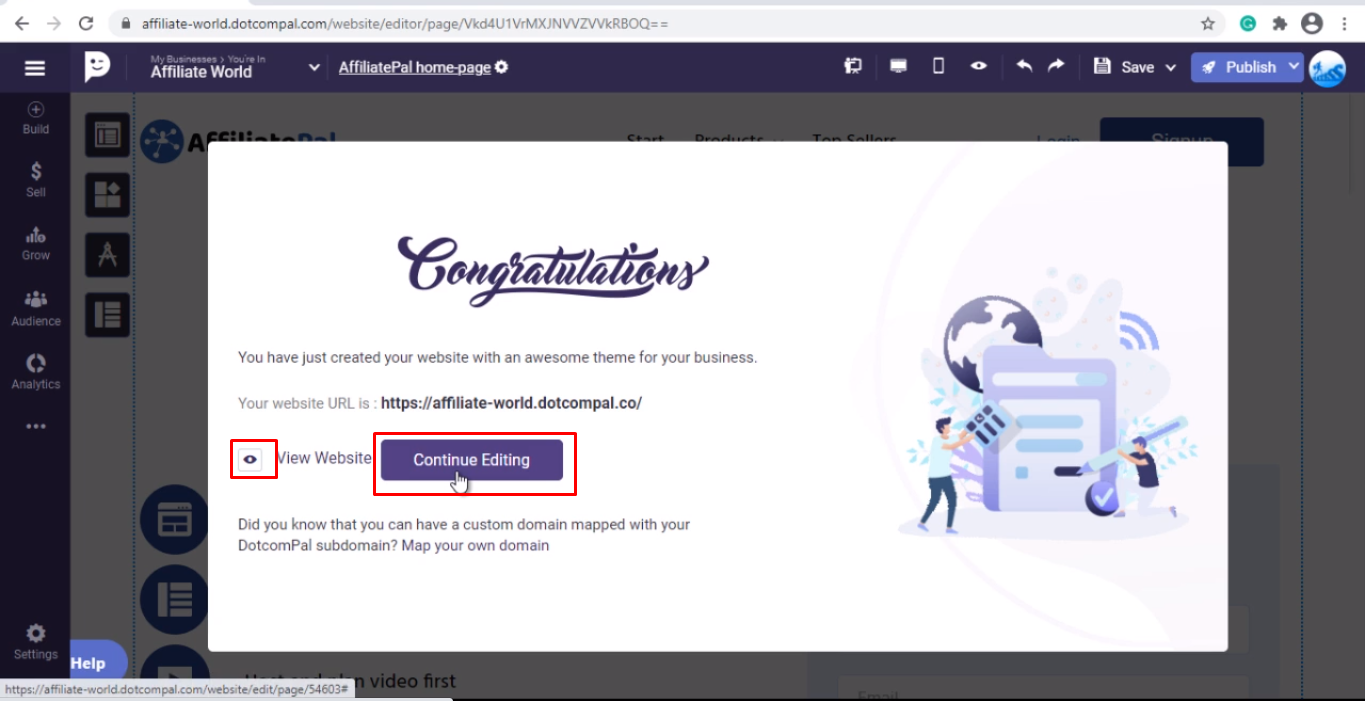 Now you can see the many more options on this Build editor of DotcomPal to edit your website.
My Friend,
You might have seen and used many of the editors for website building. You may have used drag n drop editors too, but I can bet, you have not seen anything like DotcomPal Build Editor before.
DotcomPal comes with a world best Drag & drop editor using this you can easily build your site. It is a fully functional, website builder with multiple page elements, widgets and other setting options. It gives you more freedom to drag n drop.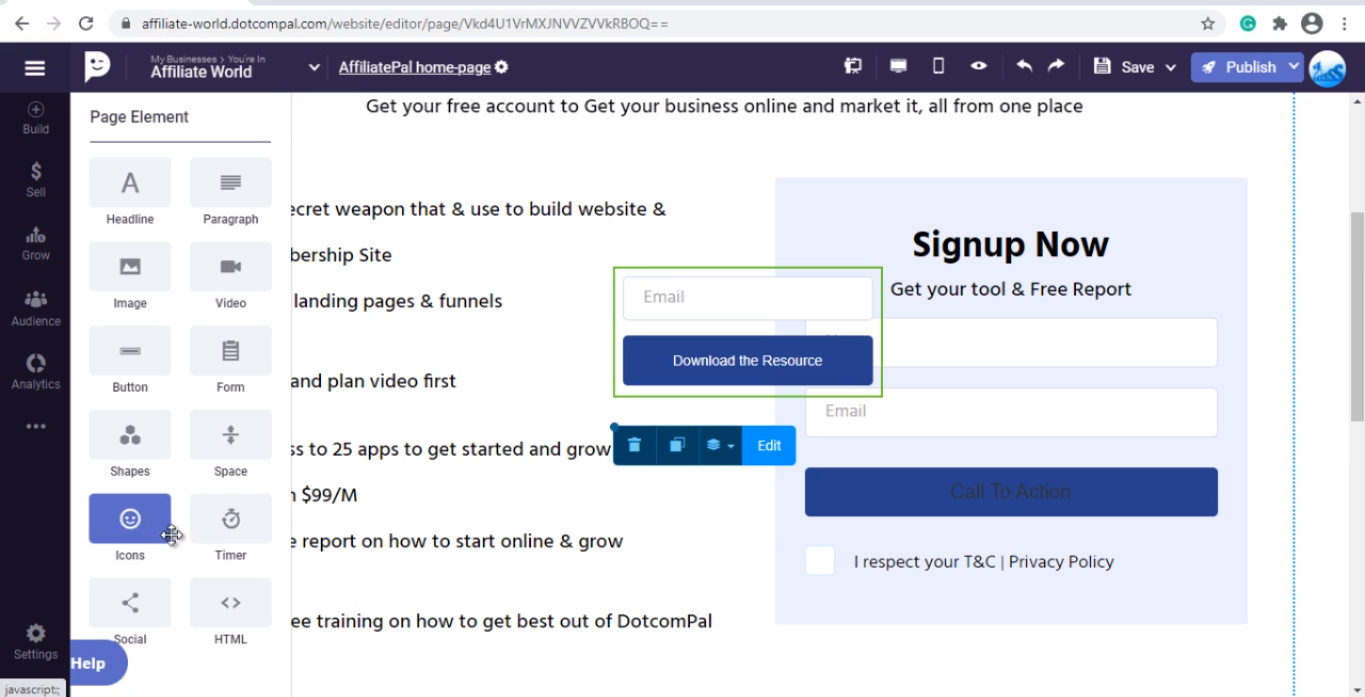 Let's start from the top of your website.
Before creating the page, you can define a couple of settings here.
First is Page Title and URL. If you want to change the Page Title and URL of this Page you can change it from here.
Also, if you want to configured your custom domain for your website you can configured it from here and to know more about this builder platform you can click on this Knowledgebase option.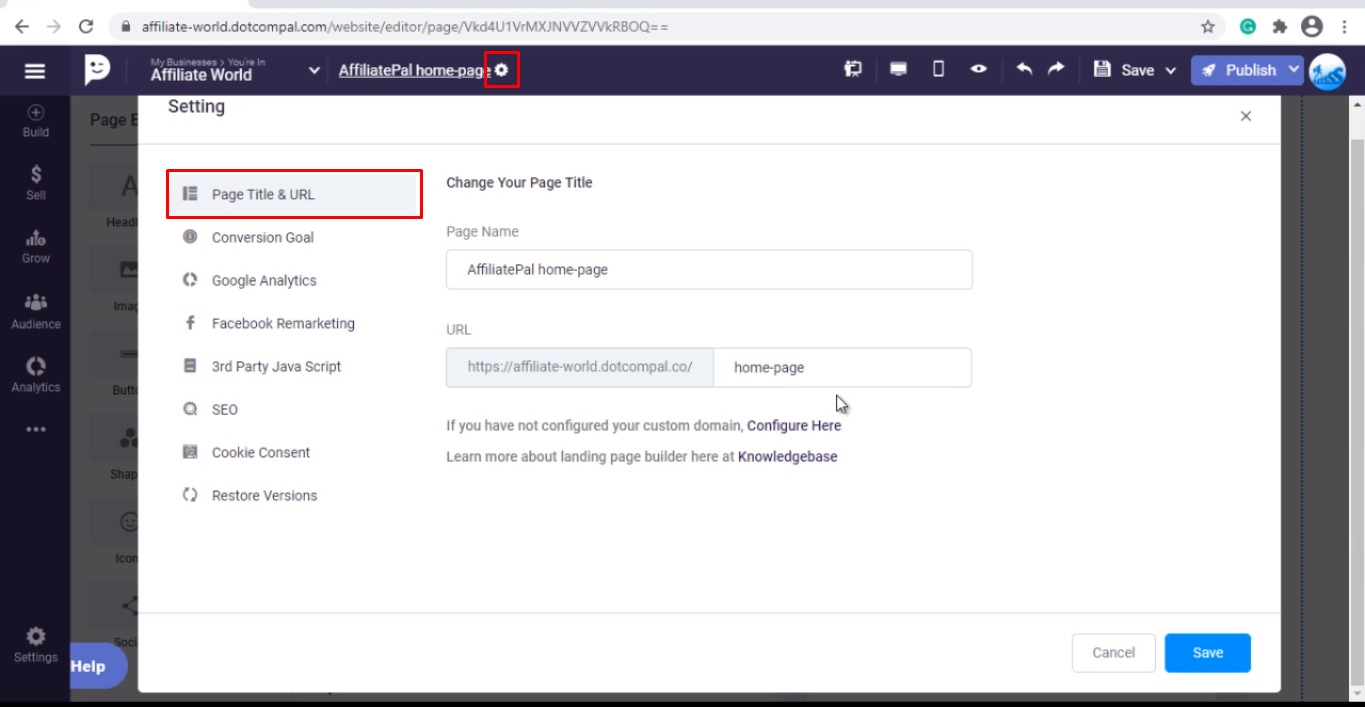 Then Next is Conversion Goal.
Suppose if you are creating this page for a certain conversion goal, this will help you to measure the performance of your page.
You can select the options like Sale, Lead Acquisition, Link Clicks, and Share Count.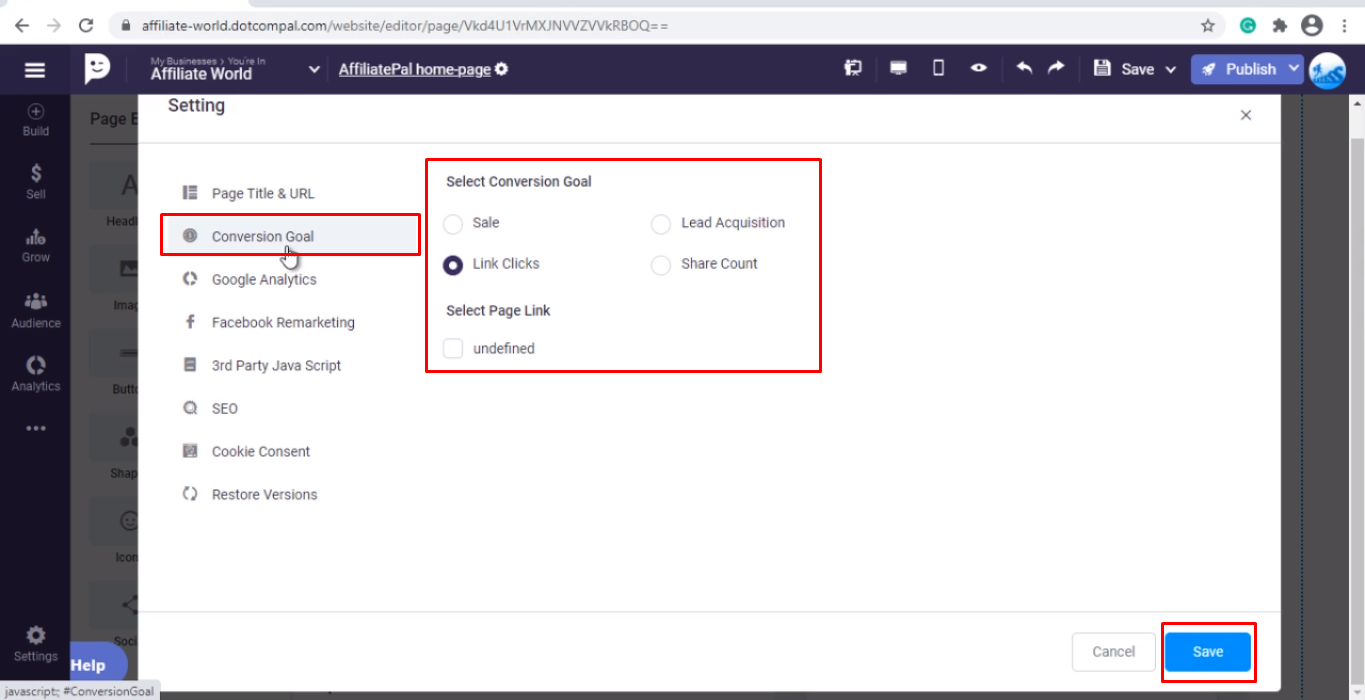 If you select the Sales goal, then it will generate a pixel for you. You can put this pixel code in your success URL, it could be a thank you page after your sale or could be any kind of Upsell page after the sale.
This code will help you to measure the accurate sales report. If you are putting any buy link on this page, and want to measure the sales, then this pixel will help you to get the exact report of the sales, this is how it will measure the conversion of the page.
You can also put a sale value to distinguish it.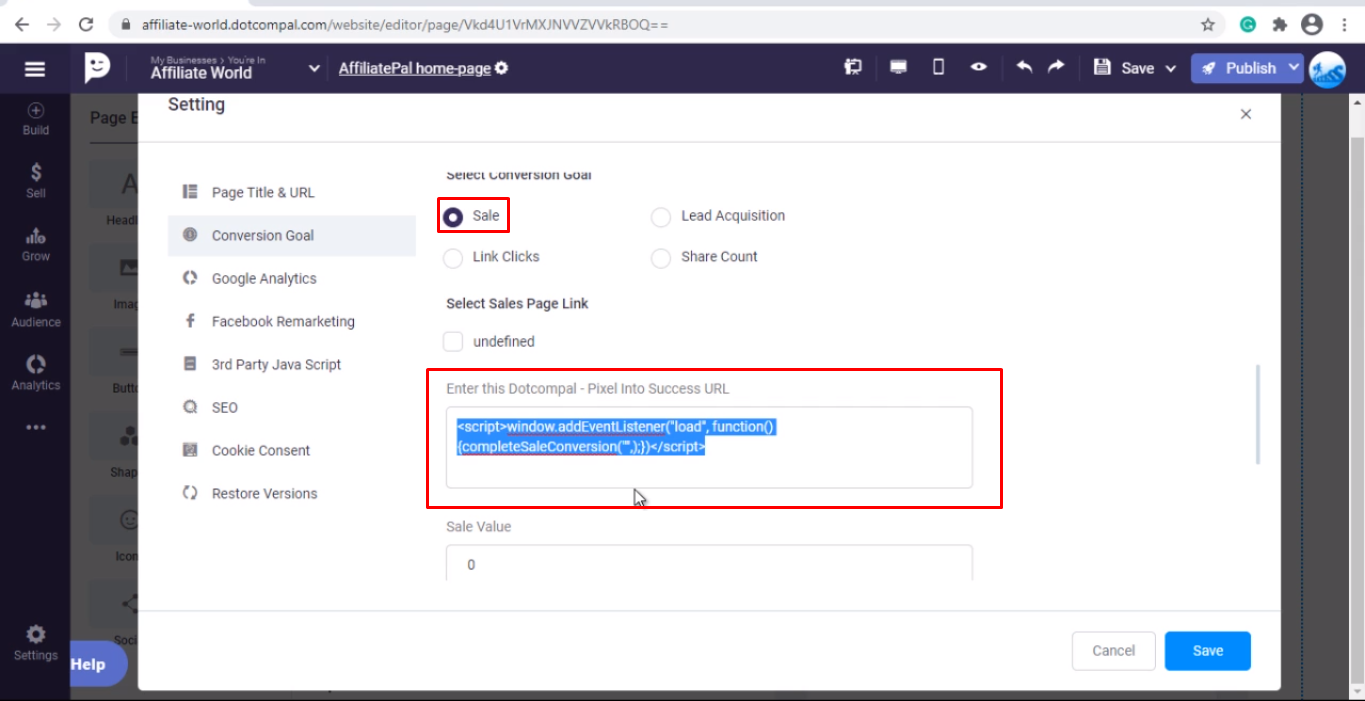 Then if you select Lead Acquisition You can set the Acquired Lead Score to prioritize leads from this template.
Let say if you set the lead score to 20, then all leads generated by this page, will show a high lead score in the analytics report, so it will be helpful for you to distinguish the leads from your all leads, so that you can focus on the prioritize leads for more conversion.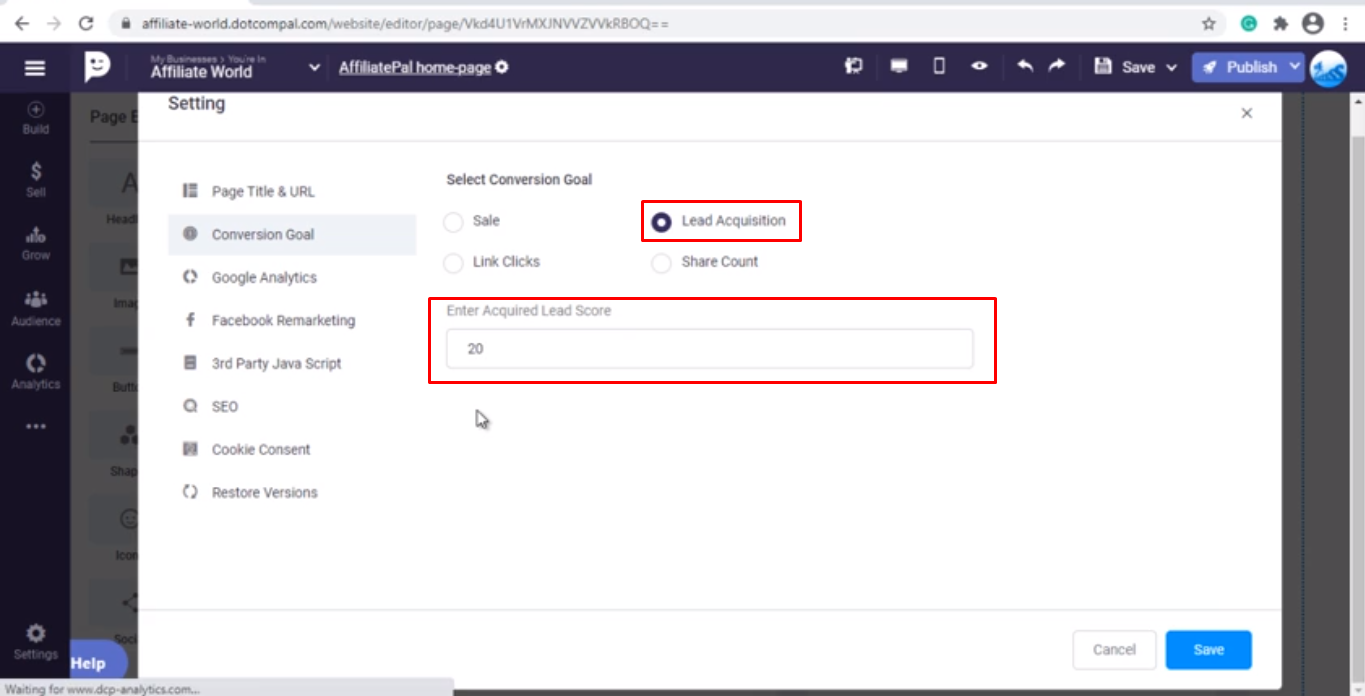 The next conversion goal option is Link Clicks, if you are creating a promotional template, to redirect the visitors to your other page or website or any URL, and want to get the analytics report for this, you can set this goal.
Once the visitors click on that link, you will see get the conversion report for that.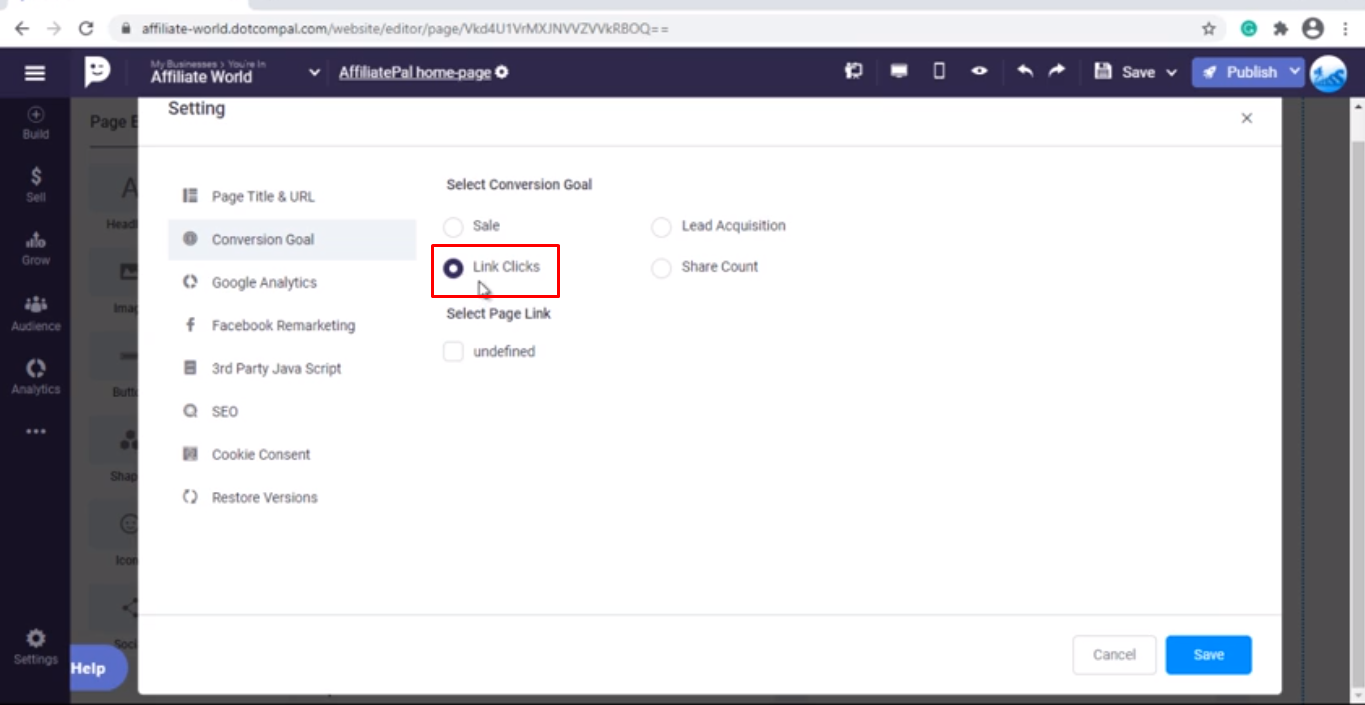 Next option is Share Count.
Fellow, if you set this conversion goal, it will provide you the analytics of sharing this page on social media.
You can check this box for lead acquisition and share count conversion goals to update this setting on all the analytics.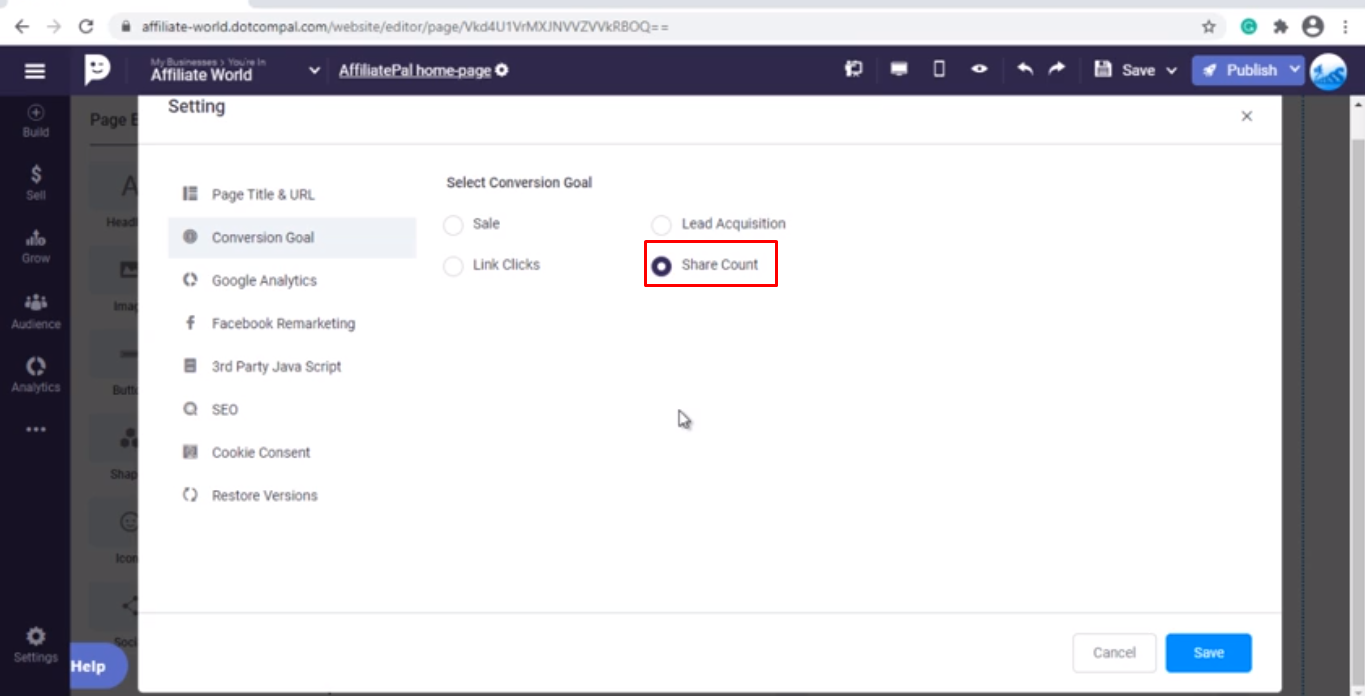 Let's move forward, the next setting here is Google Analytics.
Here you can put the Google Analytics Tracking Code to get the complete analytics of this page on your google analytics account.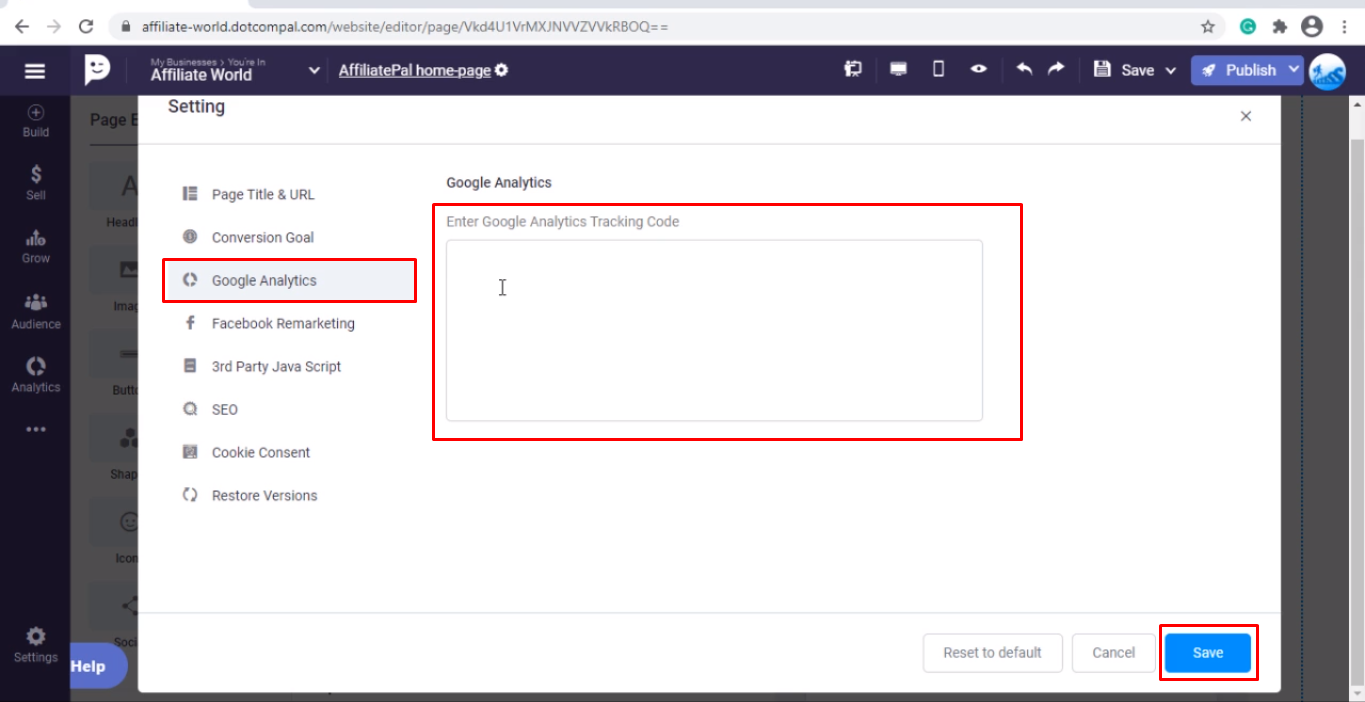 Next option is a Facebook re-marketing pixel, you can enter the Facebook Remarketing Tracking Code here.
It will help you to re-market your page advertisement for a visitor.
Suppose if some people have visited your page, and then they left, once they will log in to their Facebook account, they will see the ad for your page.
So, my friends, this is how you can use the Facebook pixel code to remarket your page.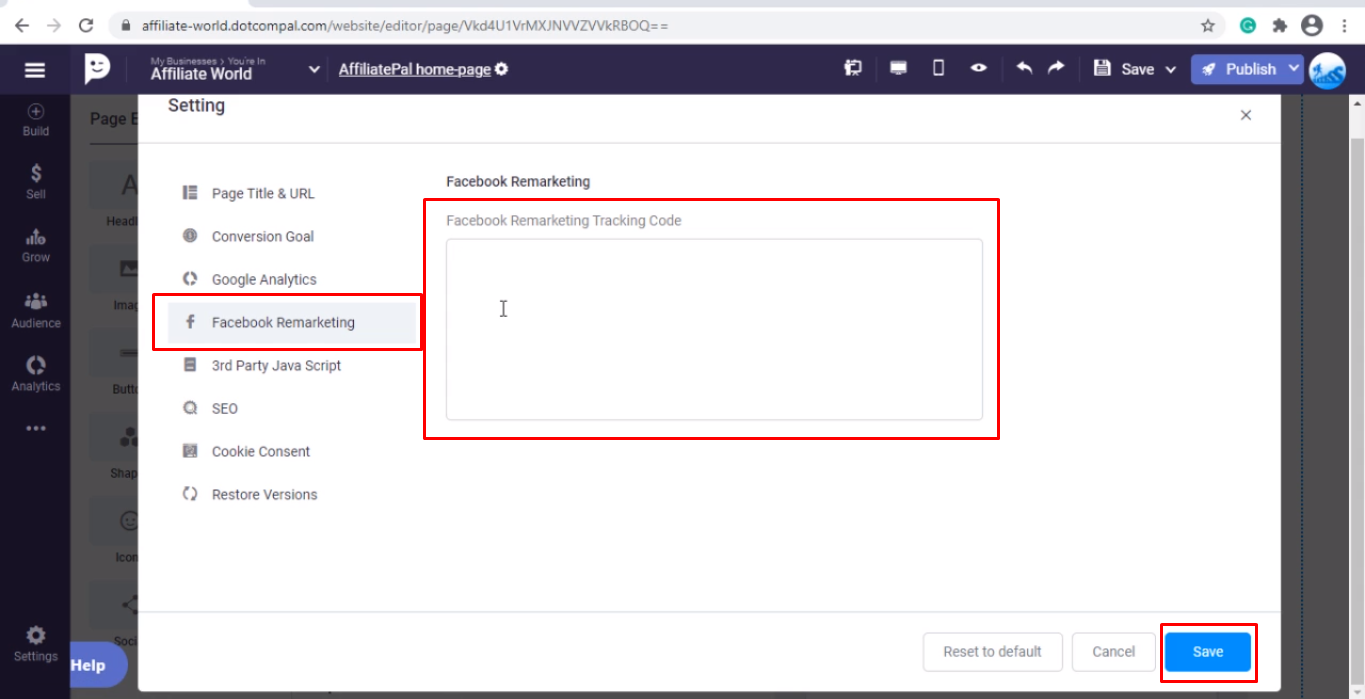 If you want to put any third-party analytics code, for example, from Web-engage or HubSpot, you put it here.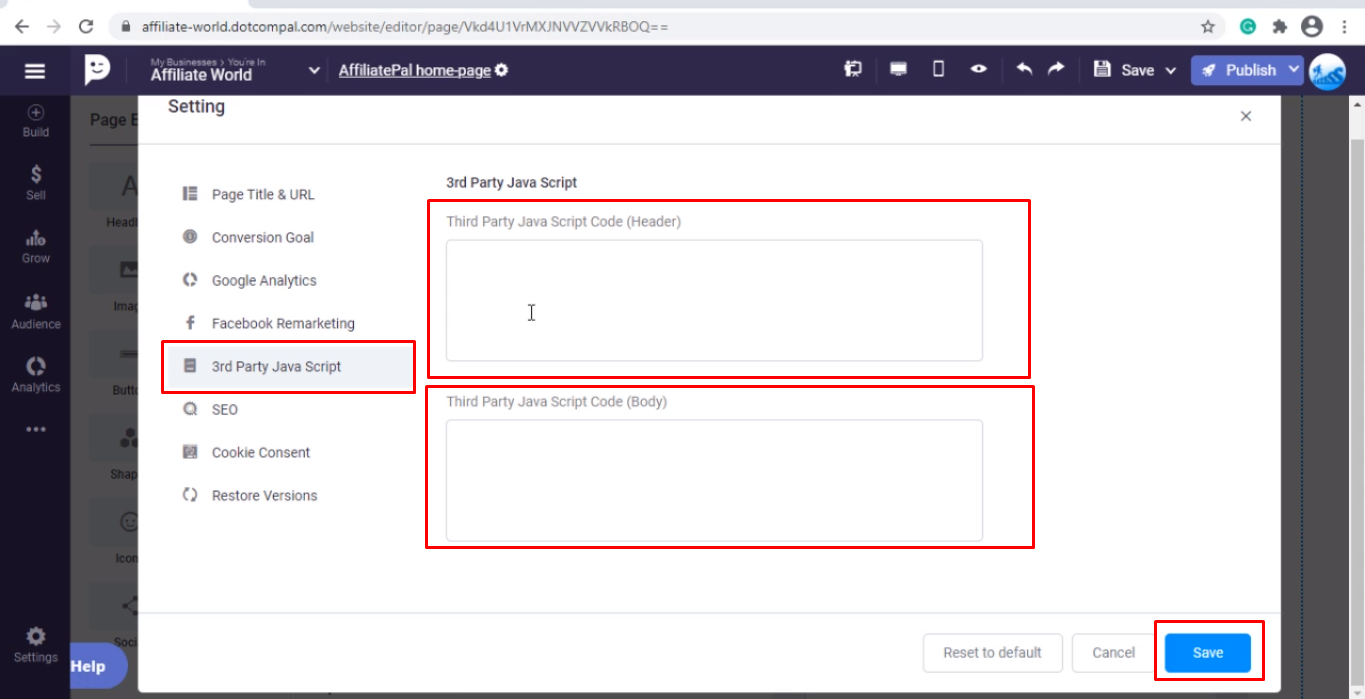 The next setting here is SEO.
You can set the Page Title; you can put the Keywords for search.
You can type the Meta Description. After setting this up, you can set the favicon for your page. You can upload one from your files or upload it from your computer.
You can also set the Robots Meta No Index and Robots Meta No follow.
My friends, we recommend you to not to check the Robots Meta No Index and Robots Meta No follow, as you do so, your page will no longer be indexed or followed by the search engine.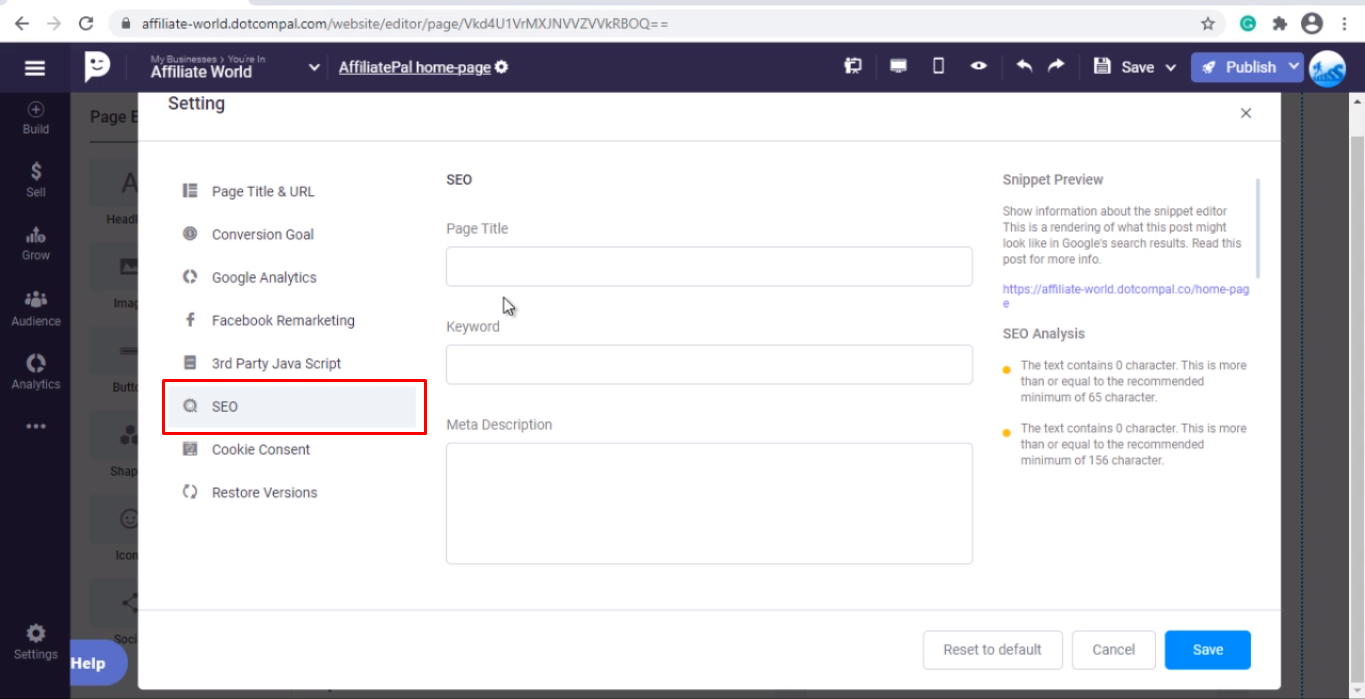 Next setting is Cookie Consent. If You want to publish cookies consent on your page, then you can use this toggle button to turn it on or off.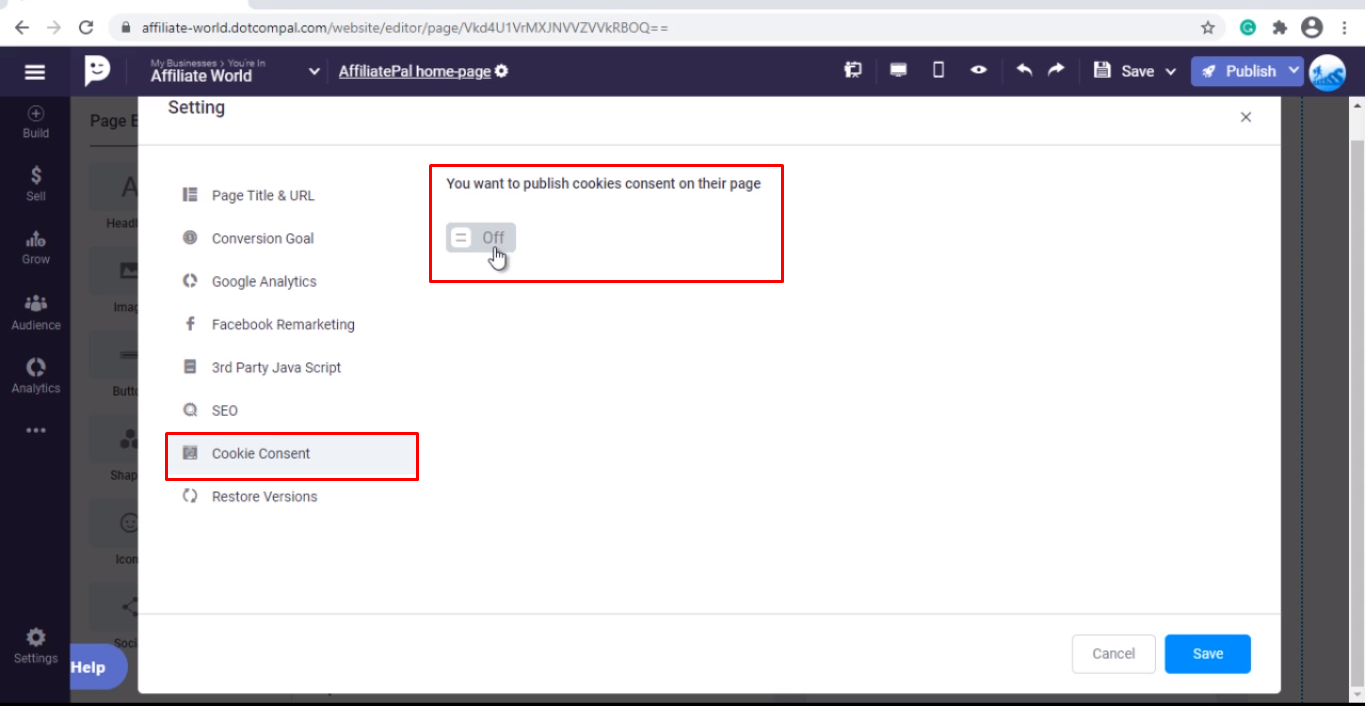 You can also check the Restore version of your page here.
Once you are done with these all settings, you can save it from here.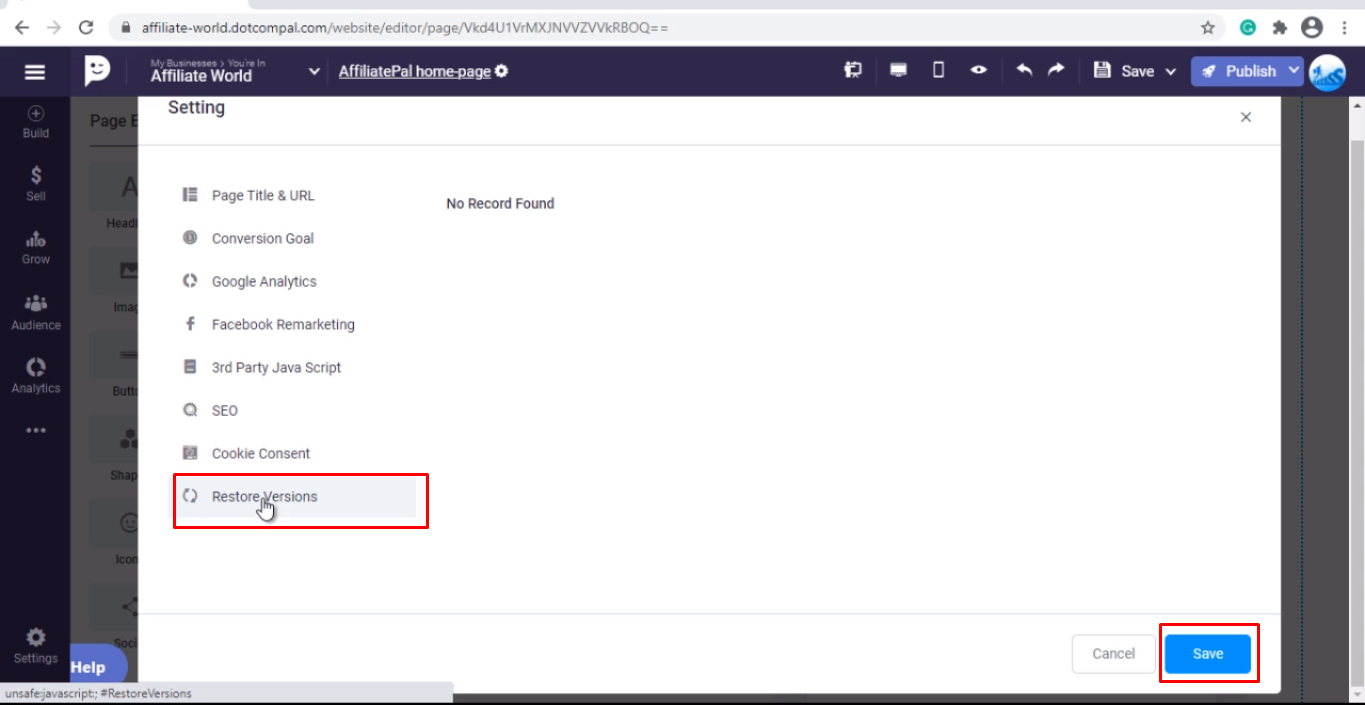 Alright friends, let us understand this top bar now
By the help of this Training Video option, you can watch the training videos of all the DotcomPal editor series so that you can understand how you can use them.
My friend, as your audience might see this page on their computers as well as on mobile phones, so you can have a preview here to take a look. 
Then you can use this preview button to preview the page.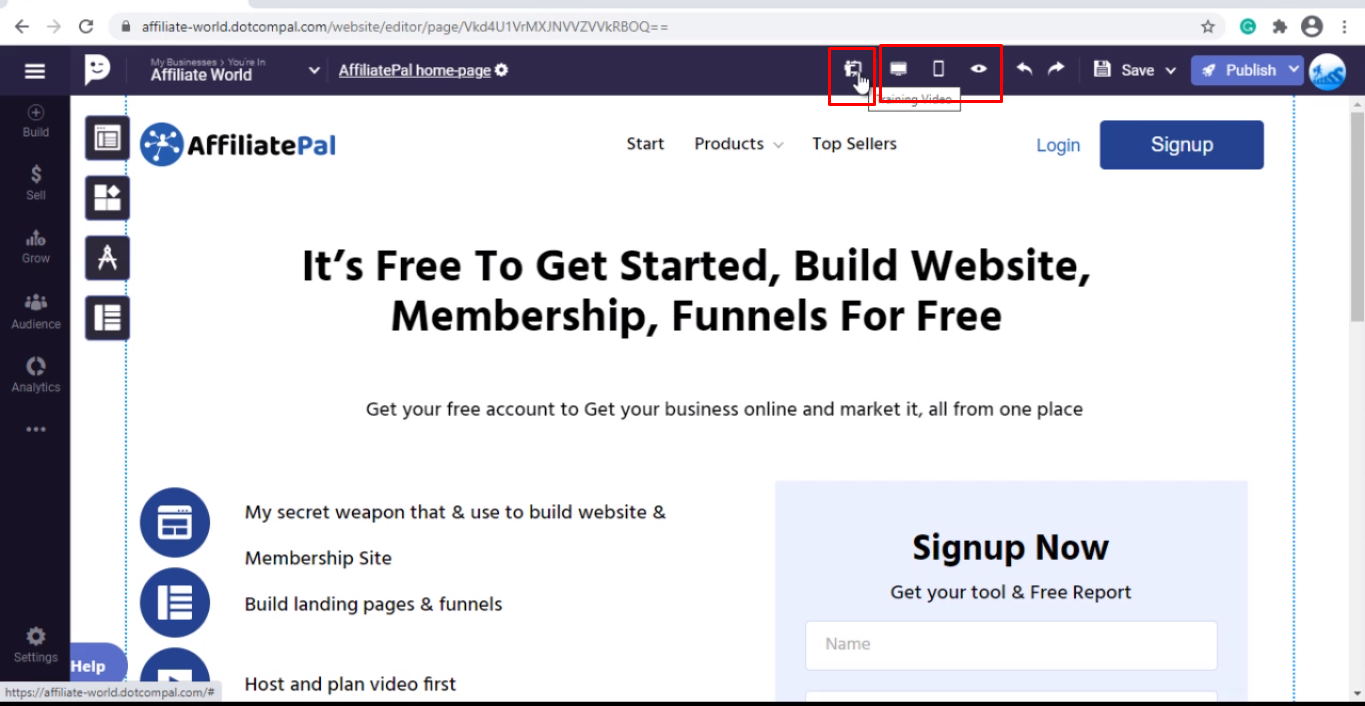 Undo Redo buttons are also there to help you with your work. 
If you want, you can save this current page, as a template, so, from the next time, when you will go to create a new page, you will this in the 'From my templates' section, so that you will just take this one to edit for the new page.
While editing this page, you can save it as a draft too, if you don't want to publish it right now. By saving it in the draft will save all the changes and you can again edit this page from the place where you left.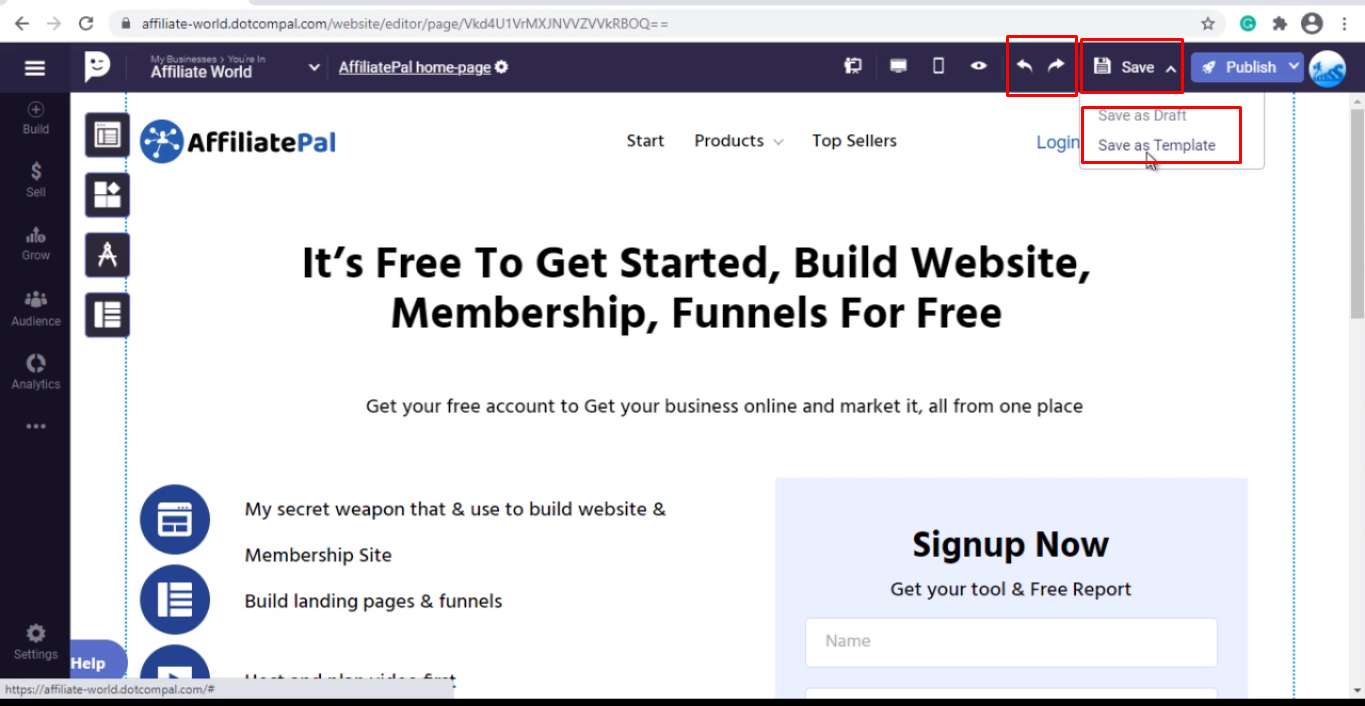 Then in last you can click on Publish button. You will see the different publish option like if you want to publish your page public-ally for all then you can select Public, if you want to publish your site only for your members then you can select Members only and if you want to make your site password Protected so that only those can access whom you provided the password then select Password-Protected.
And then if you won't publish a website right away you can select Now else you can select the Date option and select the desired date from the calendar when you want to publish the page and in the last click on Publish button to publish your Website.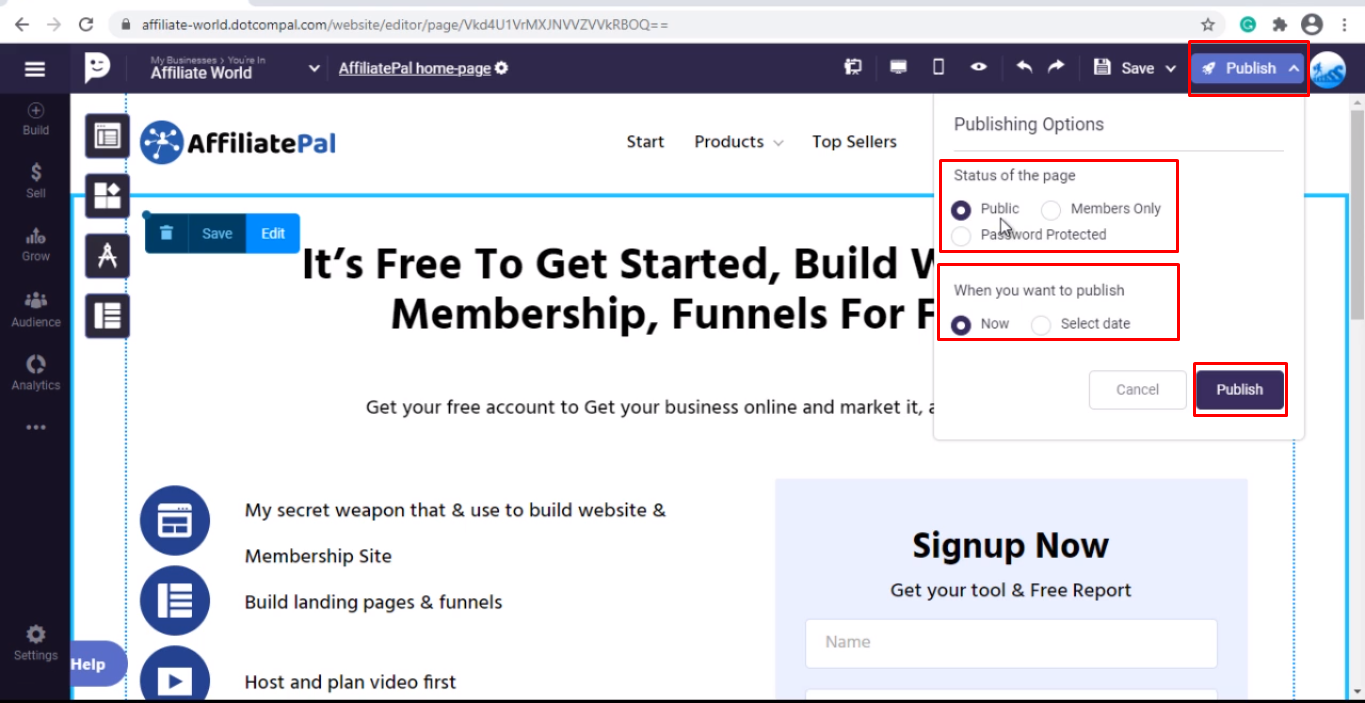 My Fellow,
Now let me show you how you can edit or customize your website.
As I am using this done for you Template Theme in which you just need to edit this dummy content and graphic images with content and images related to your business and your website will be ready.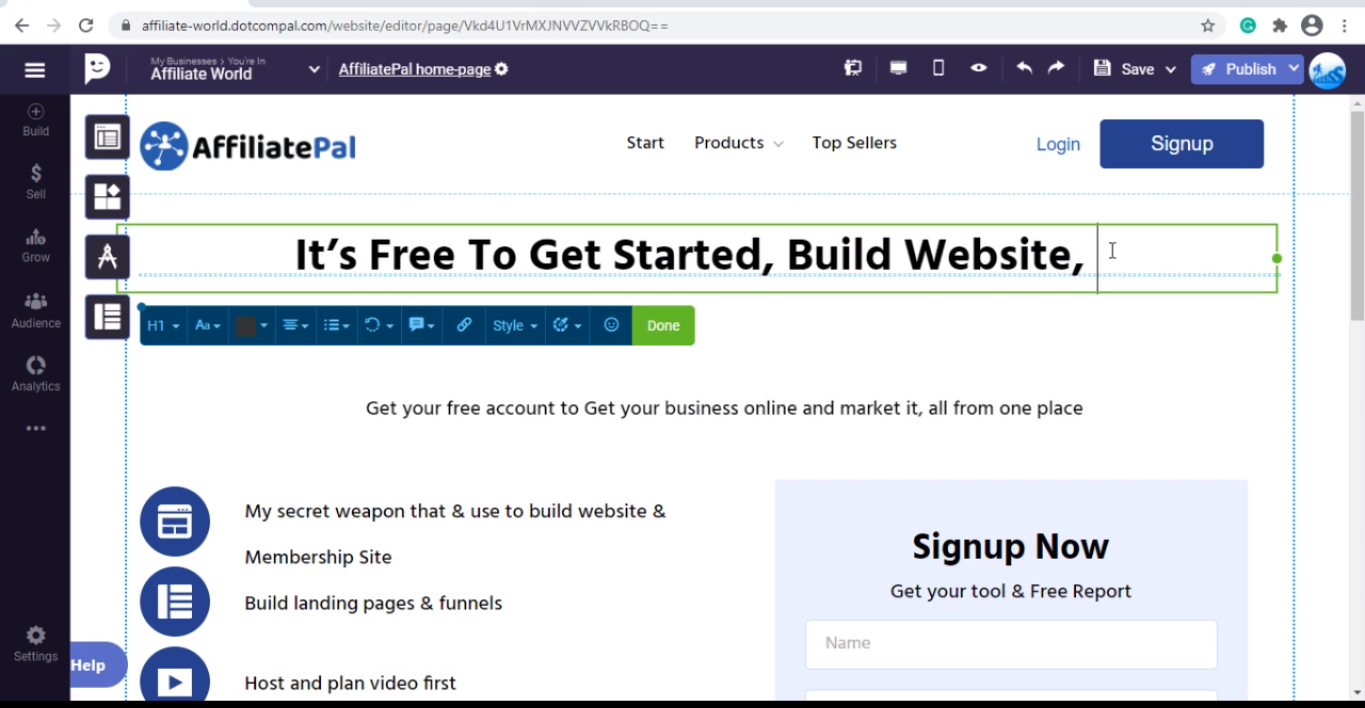 It is super easy to do as you just need to select the desire section which you want to edit and then you can edit it with your content. You can also change the position of these options just by dragging n drop the desire section.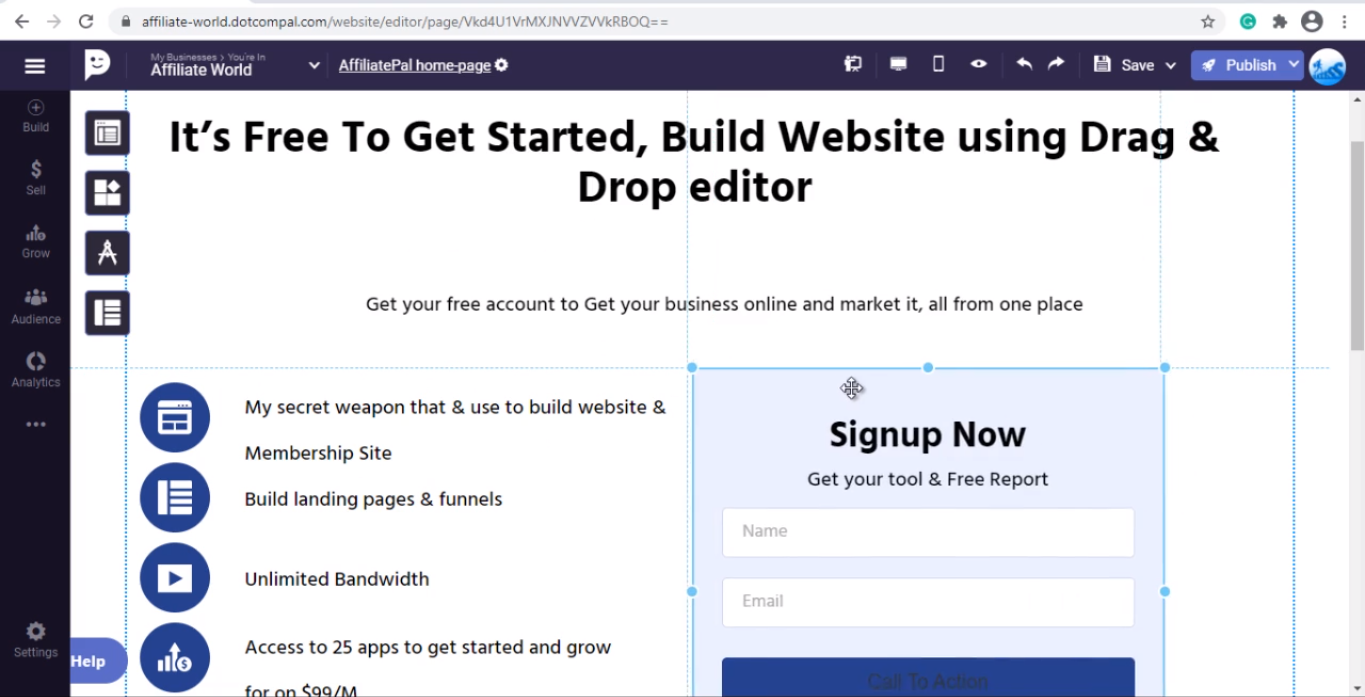 Also while editing the content you will get different customization option by the help of which you can easily customize it in a way you want.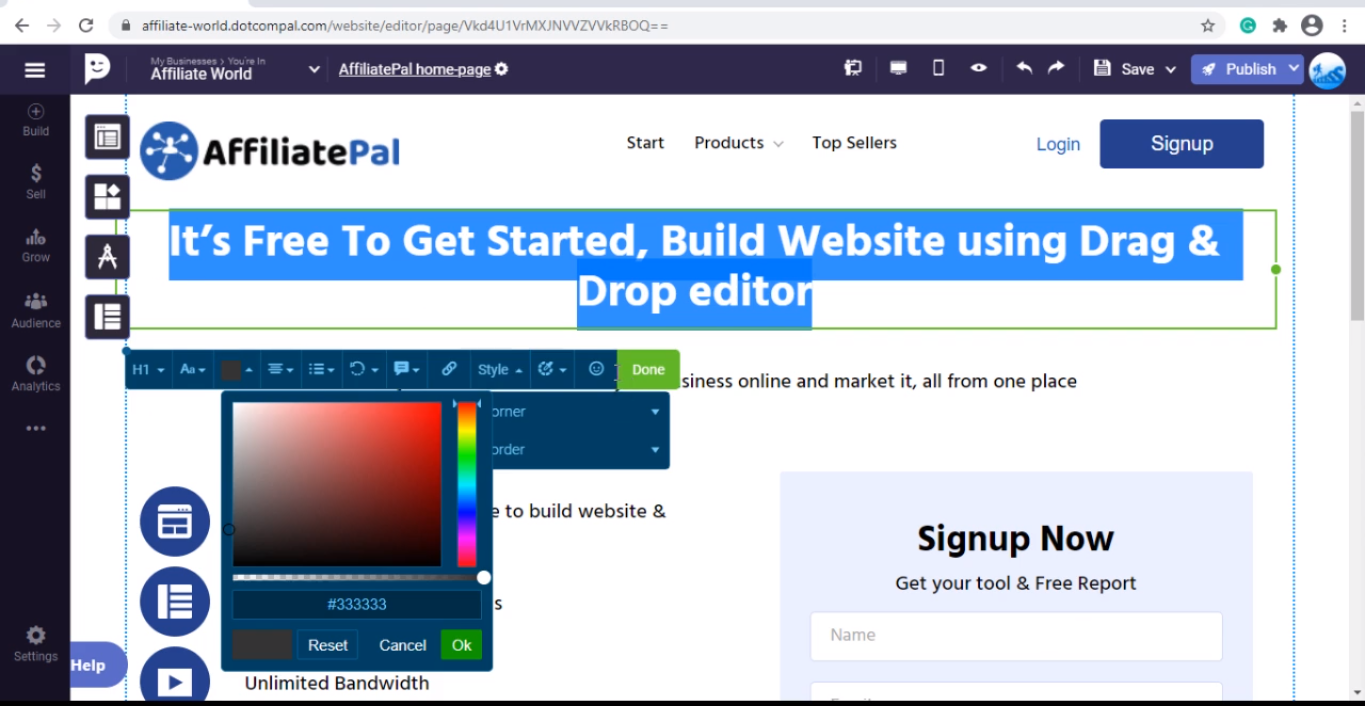 Here while editing this theme if you think you need some other options or you need the things in other style then you can do that as well.
You can see these 4 types of settings icons over here. By the help of these you can make your website in any way you want.
Let see one by one that how you can use this to make your website.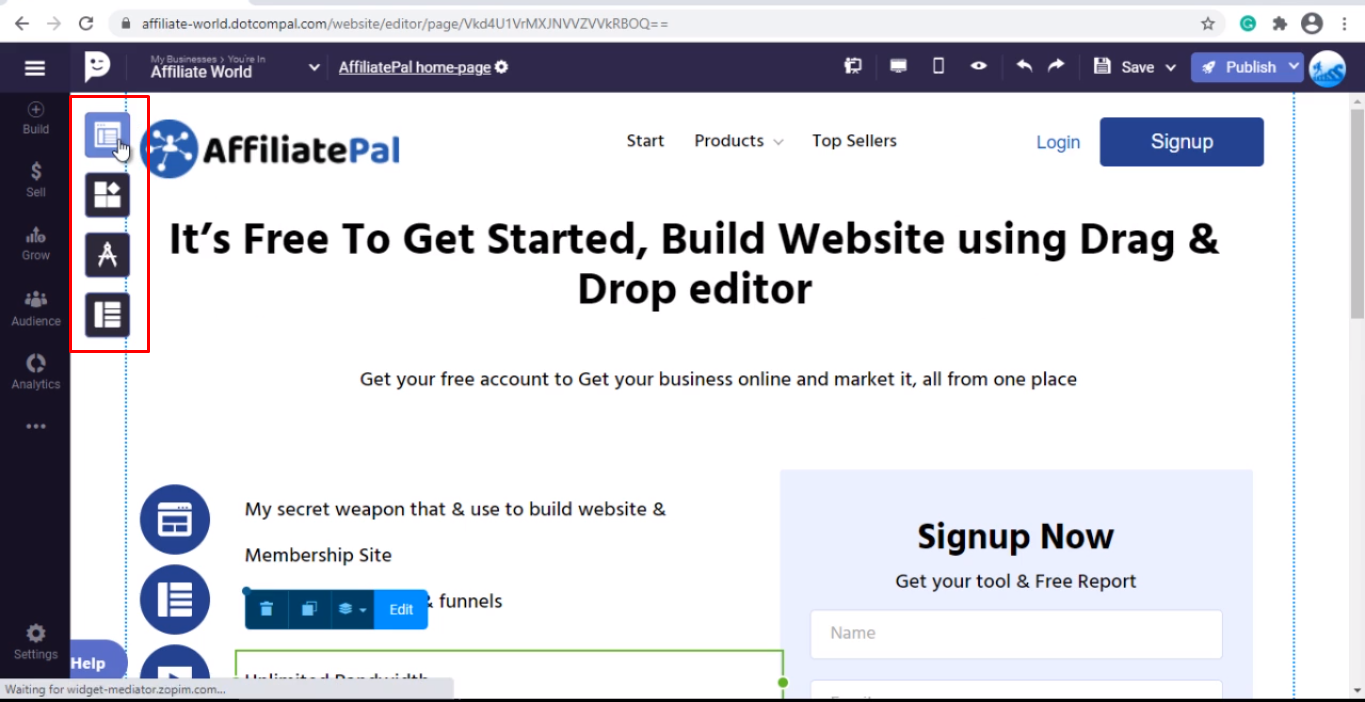 First is the Page Element in which you will see 12 different types of elements which you can use to make your website.
Let me show you one by one that how you can use it.
As you know that is a complete drag a drop website builder so to add a Headline you just need to drag this headline and drop it where you want to add headline on your site.
You can see this heading which says Your heading goes here. Now you just need to edit this line by click on this Edit option with your Headline.
Next if you want to Paragraph you to your website just drag the paragraph and add your content for paragraph just like we use here.
Then in same way you can use Image if want to add image to your website,
then you can drag video from here if you want to add video to your website.
You can add Button to your website by dragging it
Then you can add Form, Shapes, Spaces, Icons, Timer, Social and HTML.
We have created a separate training video to explain all these elements in details which you can watch from this Training Video section.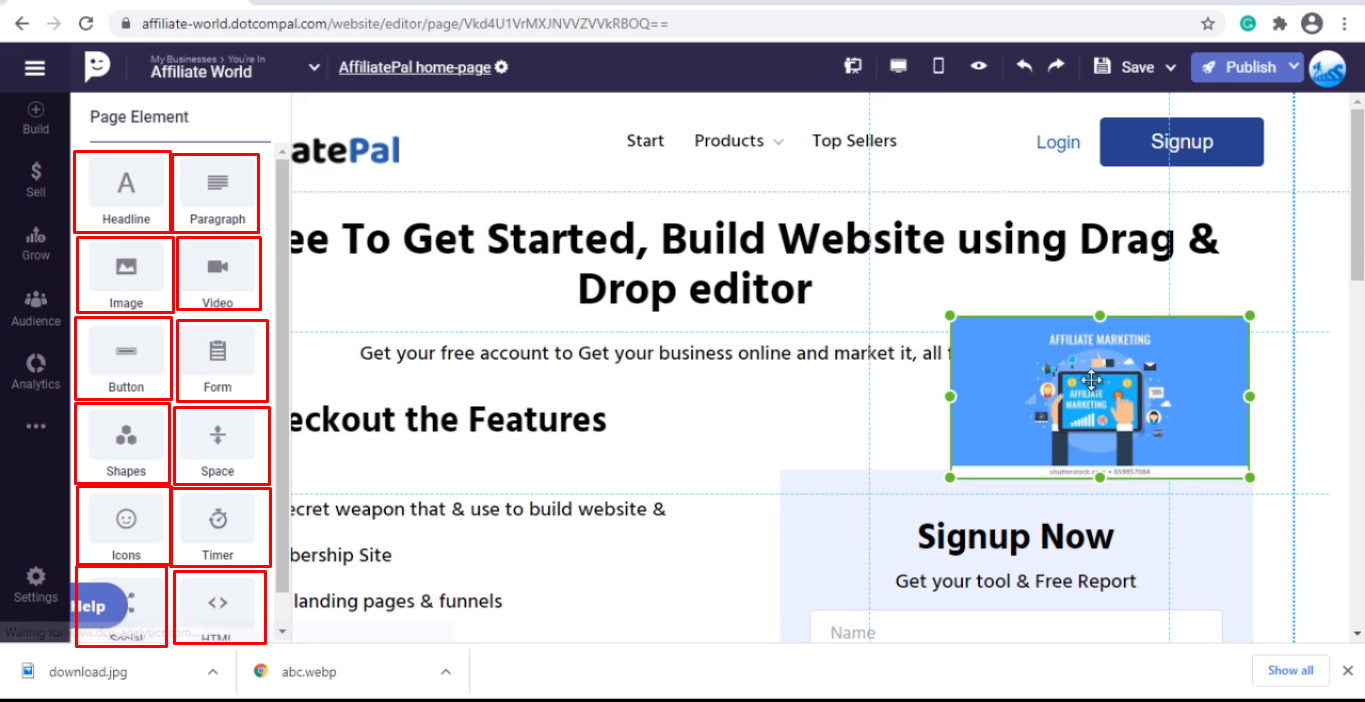 Then Next is Widgets.
In Widgets you will see lead form for lead generation and Header, Footer and Menu of Website.
You can drag this Lead Form to your website to grab the lead of your visitor who visit your website.
Then this Header and Footer are the same which we have selected previously. If you want to change them you can change it from here again.
Last is Menu.
You can setup this Menu option which you see in the header section of your website.
Here you can edit the name of this Menu so that you can remember easily.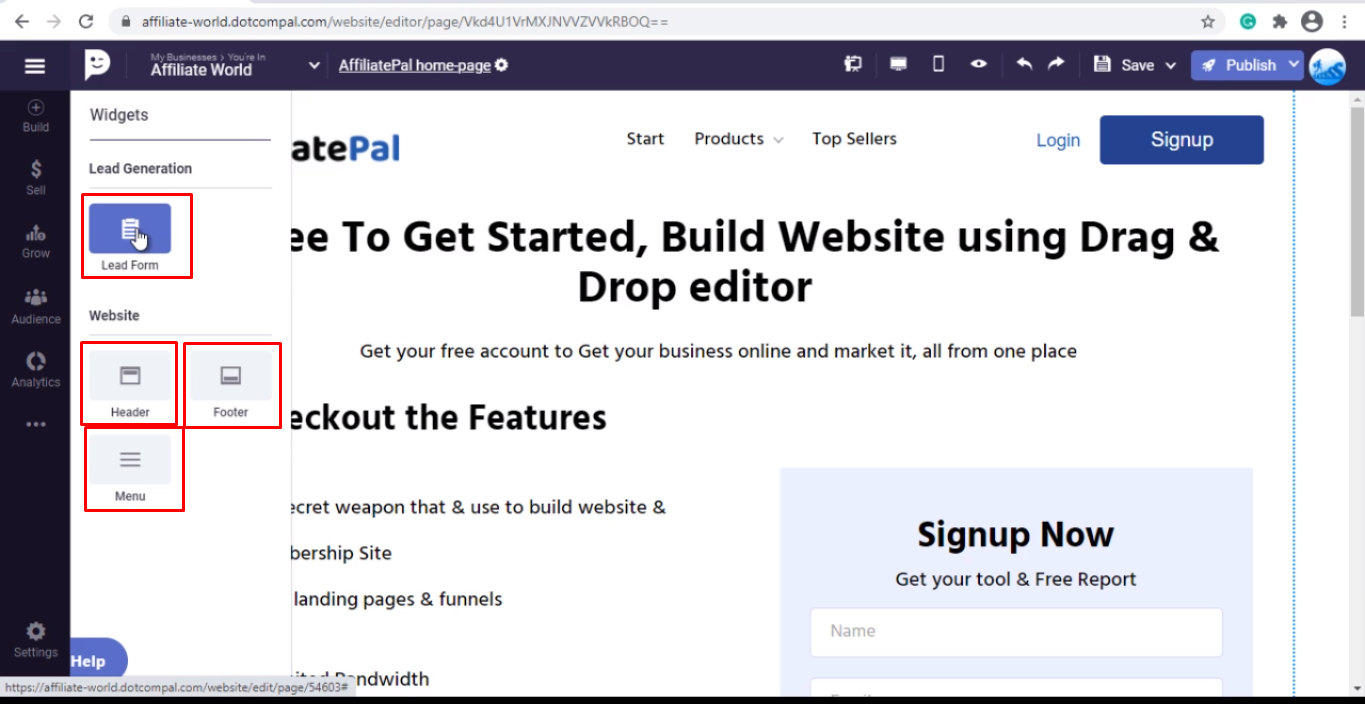 Then you can edit this menu, duplicate this menu and delete it if you want to delete it.
So let me show you how to edit this menu.
Just click on this edit icon.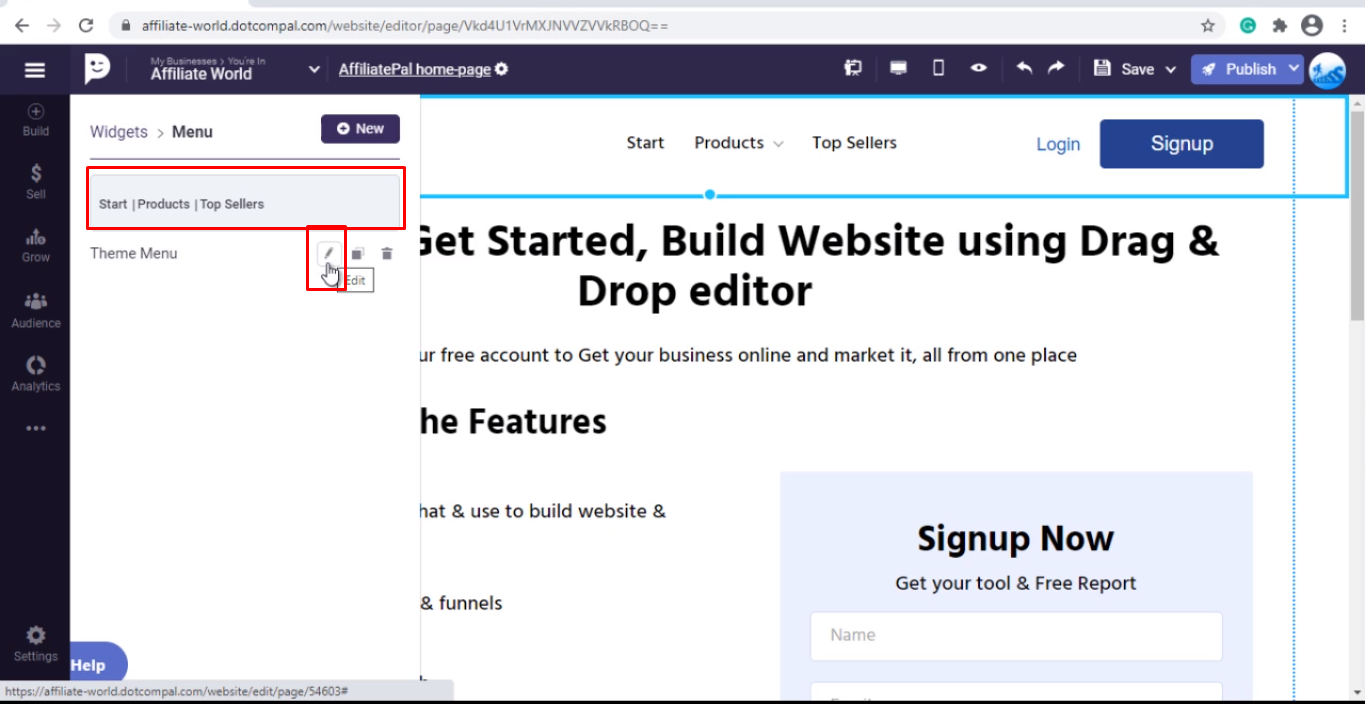 And you can see the current theme Menu categories are available here.
On the left-hand side, you will see all the Web pages, Landing Pages, and Custom URL available which you can select, and by them, by clicking on Add button you can add them to your Menu bar.
You just need to select and add these pages to your Menu and make categories and sub-categories in your Menu just by drag n drop.
In this way, just by drag n drop, you can make your Menu easily.
My Friend, isn't it super easy to do?
Of-course it is
Once done. Click on Save.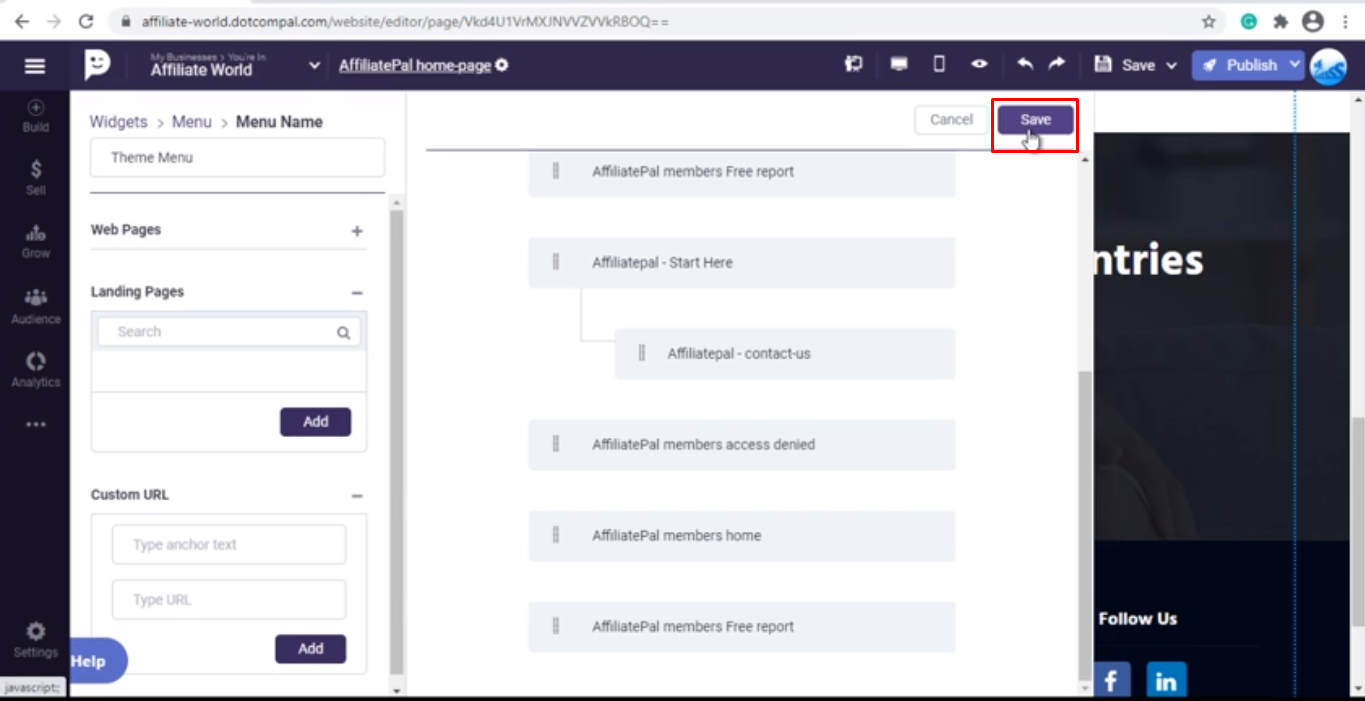 Here in case if you want to create a new Menu you can add it by click on this New add button.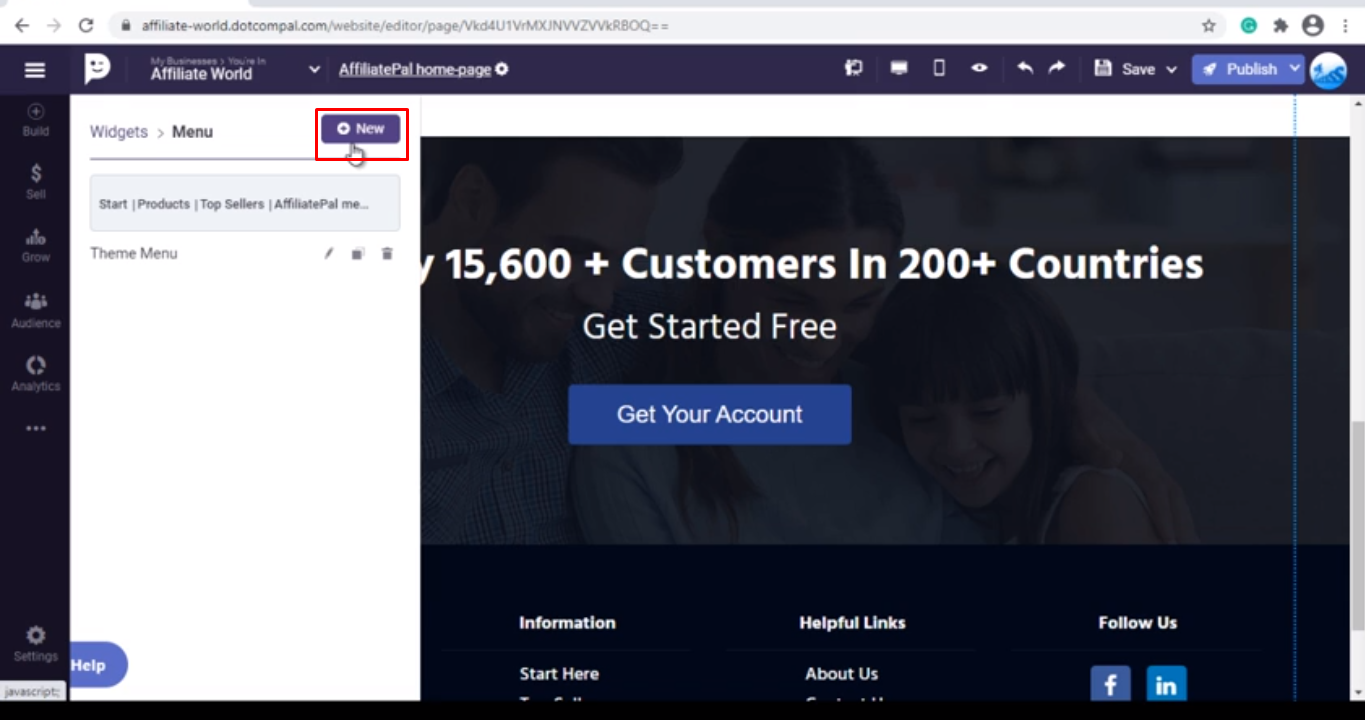 Now next setting options are Appearance & Website.
We have created separate training videos and articles for these two options to explain these settings in detail. I request you to kindly go through that article and video for step-by-step instructions.
I believe this article was helpful for you.