Audience is the most important part of your business, and you should understand them better.
DotcomPal helps you to know your audience closely. Here you can segment them as per their location, behavior, device they use and many more features.
Let's watch the video to get more information on it-
Know your Audience
Hello my friend, I am Shivam from team DotcomPal and in this training module we will understand the contacts management in DotcomPal. I'm here on my dashboard, from the left menu option click on 'Audience' and then click on contacts.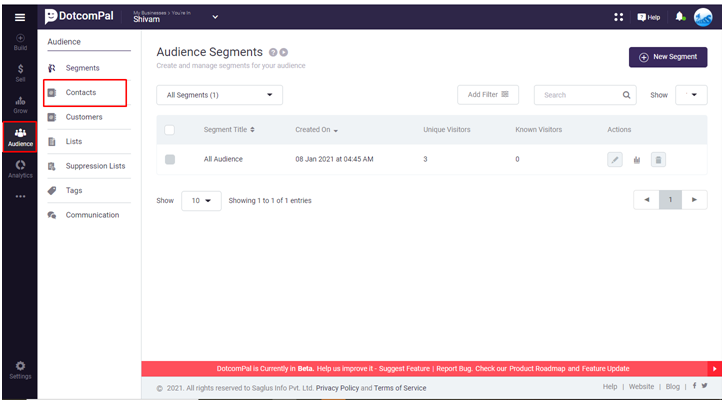 All right friends here we are in the all contact section of your account. We can see all the contacts here. We can see the name, email address, phone number, lead score, company if they are provided or if you have asked, roles and actions. Under action you can edit your contact, view your contact information or delete individually.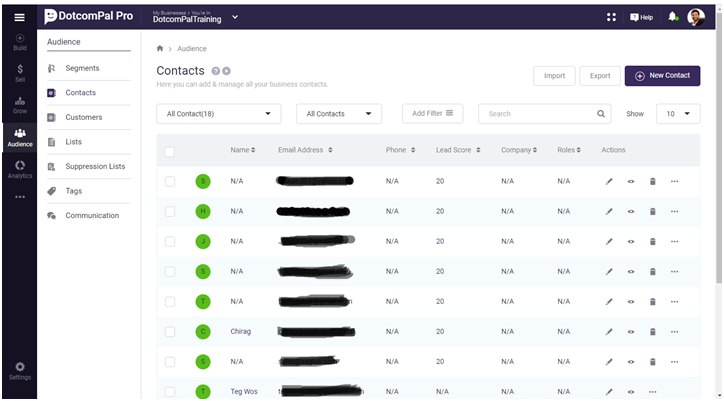 So my friends now first of all let's understand this drop down which says 'all contacts'. Here you can check your all contacts, recently added contacts, recently updated contact, contact added in last 7 days, and contact added in last 30 days.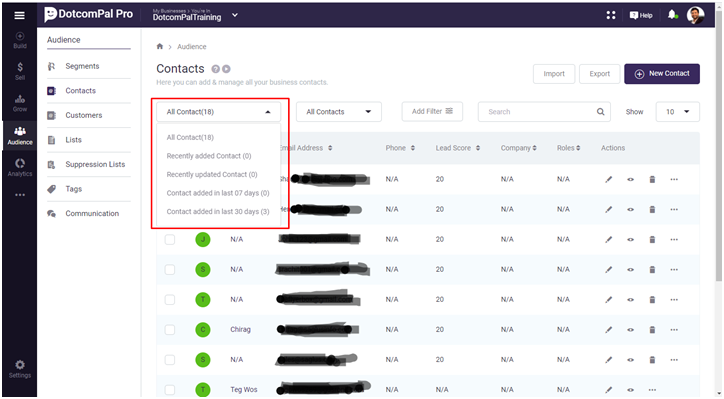 Next, you can check here all contacts and all subscribers. All contacts are the contacts which you have generated through various campaigns using DotcomPal or from the import and manually adding. But the subscribers are the ones who have signed up on your Doc channel or videos etc.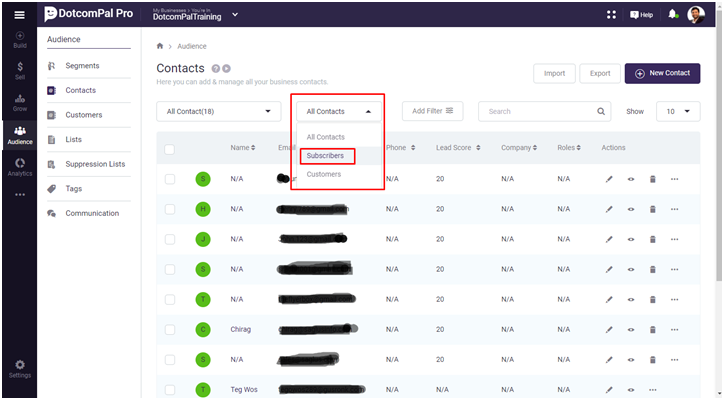 Next we can apply filter here using 'add filter' button. We can choose from name, created date, email, source, and tag options. For example, 'name' and then you can select the condition equal, not equal, start with, not start with and etc. And then you can enter the string values. You can use the plus sign to have 'and or or' condition and then choose the similar option again. And then add the condition as you like.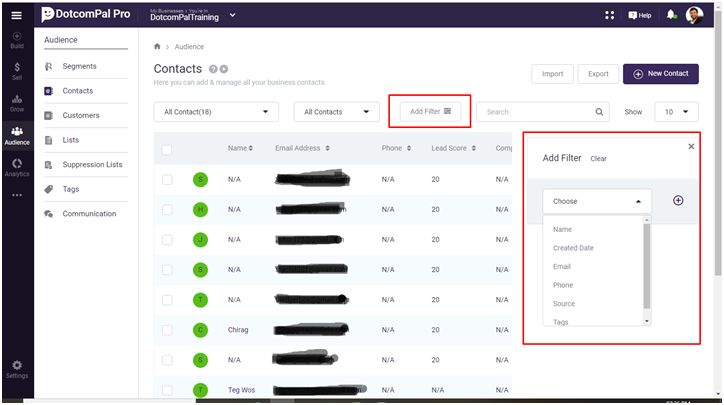 Next is search option, you can search a contact directly by adding its name, email address or the related keyword for example like this. If you want to check more contacts on the same page you can do it from here. You can see all your contacts on the same page.

Now my friend let me tell you to understand this here is the training video for that, you can click on the play button and then you'll be able to see the training video related to contacts option.

Now let me introduce you to the three options Import, export, and new contacts. First of all I will tell you what you can do with these three options. So let's get started with the export option as the name state export means if you click on the export button it will download a file to your system. First of all it will ask you to select the date range means for what date you want to export the contact. Let's say this month, last 90 days, last 30 days, 7 day, yesterday or today. Let's say I would go with this month and then apply and then click on export and then it will download a file to your system/ You can share it with anyone if you want to or you can have it on your system for your records to check it later or you can upload it on other auto responders or whatever you want to do with that.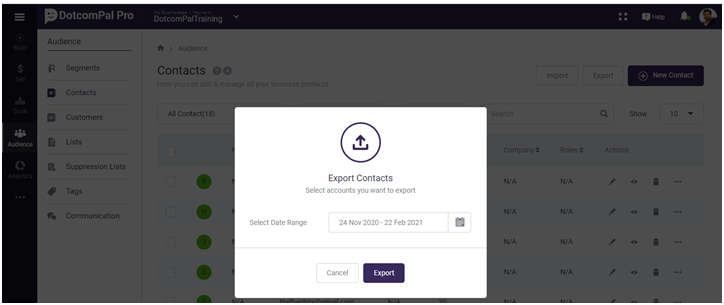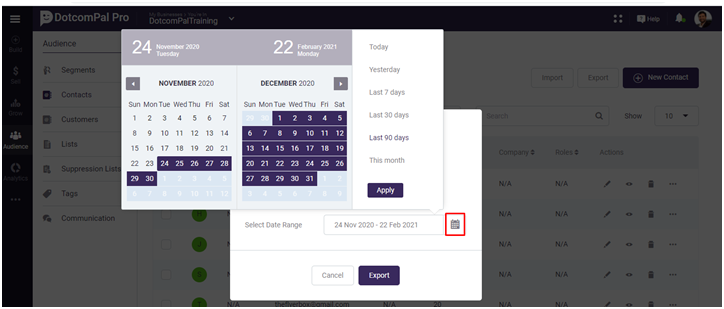 Now let's talk about the 'New Contact' option. We can save contact in the system here using the 'new contact' button. If you press it will ask you basic information social information and tag information. In basic information you can enter like name, email address, mobile number, date of birth etc. You can also add the social information about the person or the contact you are trying to add, for example their Facebook profile URL, Twitter handle, Instagram profile URL, LinkedIn account URL etc. You can also have a tag for this contact. Let's say you can put a tag like new, old, VIP or anything such like that. Once you finish adding up the information you can click on save option and then your contact will be visible right here on the top.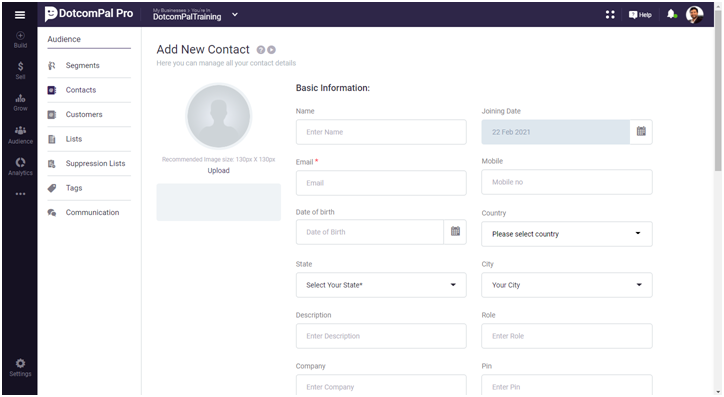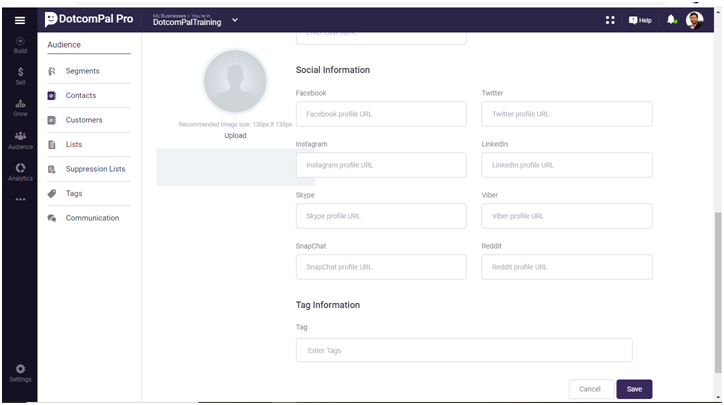 And now let's talk about the last option which is import. Yes my friend, if you want to bulk import simply click on the import button.

Now it will ask you on the first step to import which is select the file. You can select the file from your PC and once you select the file, hit the open button. Now you can also add a tag to this, let's say for example 'New' and then you can check mark on this 'I have permission to add this contact to list' and then click on save.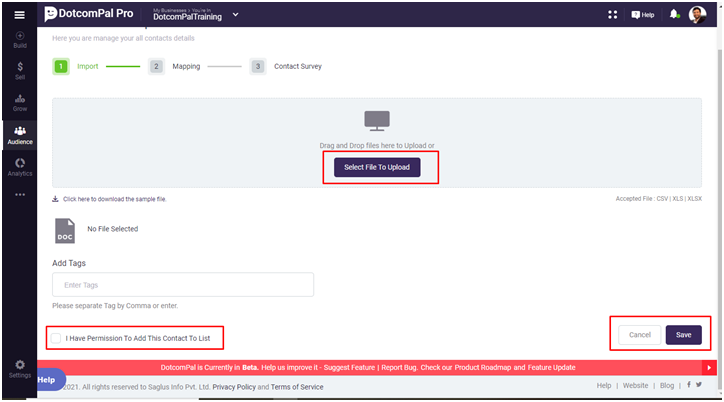 All right friends so here is the 2nd step for the field mapping. Here you can map the field like this, for example in my case I have the first name for the list here and I can select name from here. I have only name here and it indicates full name or any name like nickname or anything. But if you want you can have first name, last name, email address, etc. So in my case I'm just selecting name and email address because this is what I have. Let's see if you want some custom fields you can use the plus sign to have custom field. Just name the field here and select the type, like text number date and just click on add field. And it will be here. And then you'll be able to select it here and here as well. So once you are done with field mapping go next.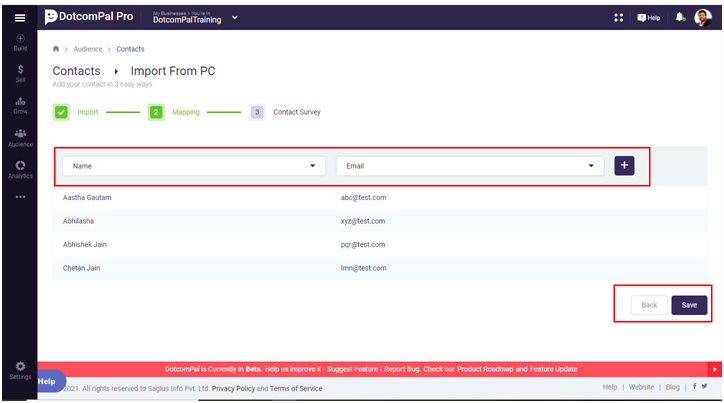 All right friend, so we almost done now you can see the last option which is contact survey. Here you will be asked a few questions about how you obtained this list so in my case I have obtained this list from the campaign so I will just type here how I got it. Now next question is what website is this list of emails for and what are the URLs of your subscription forms, so I will just type my custom domain URL here. And as I have just created it, I haven't sent it so I will just type here not yet because it's asking me that when I have sent them last email. Now the last question is how many campaigns do you want to send monthly to this list of email addresses? As I want to send for now thousand emails per week so that's why I just saved this information like this. You can save it as per your requirement or the way you have generated it fulfilling your conditions now you just click on submit button.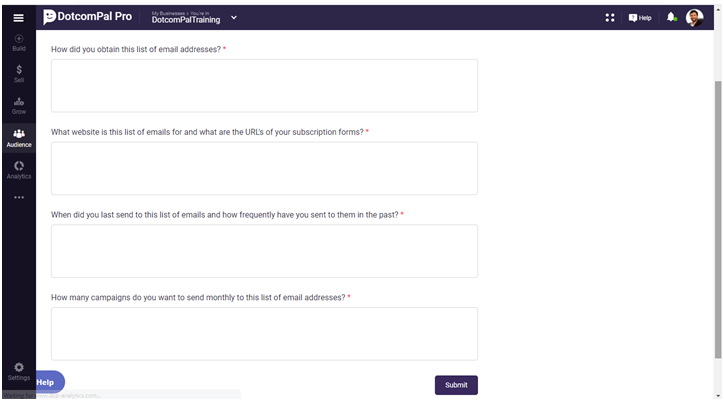 That's it my friends your list is added here in the contacts section but let me tell you once you just upload the list it will take a bit let's say a few minutes to integrate here with the system it will be visible within a few minutes do not get panicked if you don't see it immediately here.
So my friend, that will be all for this tutorial. I hope you will find this tutorial helpful. Thank you.