You can share your Media Files to your Friends, Clients, Customers, Employees, Team Members or anyone whom you want to have access to any of your file.
You just need to share a link with them, and they will be able to access that file, there are several other features also which gives you more power and make the file sharing more easy and useful.
Please watch the below video to understand this process in a better way.
Sharing of files through MyDrive
Hello, My Friend! I am Shivam from team DotcomPal and today in this tutorial we will learn about sharing files through MyDrive.
Media like images, videos, document, and many more are a vital part of any online business-building–whether be it a simple growing business or a widely set business. Stuff sharing can help build traffic for a website and further marketing performance goals. For a user, finding valuable and intrinsically interesting content can be helpful and fun.
In this Guide, we will understand the Sharing feature in MyDrive and also how you can securely share your content from this awesome platform to anyone anywhere.
From the dashboard, click on 3 dots which is on the left menu bar. 3 options will appear i.e. MyDrive, Integration and API. Click on MyDrive.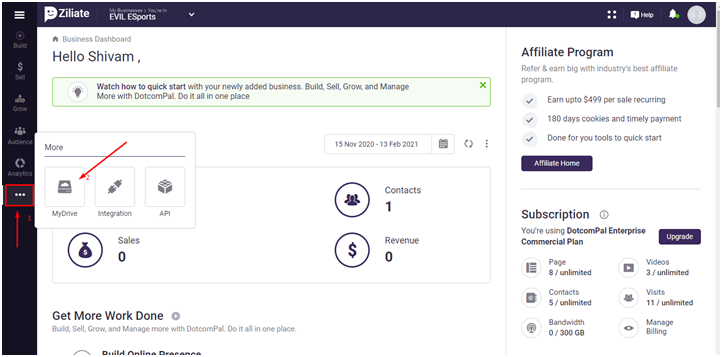 It will take you the page where you can see all of your media files in your MyDrive account.
Here you can manage your images, videos, or any document you have in your MyDrive account.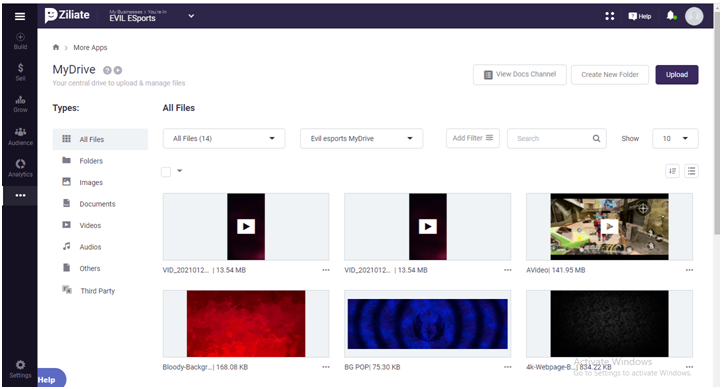 To understand the sharing feature, let's take this video as an example.
If you select this video, you can see that you can copy this video, move this video to another folder, delete it from MyDrive, also can download it to your device and change the status of the file from private, public or password protected.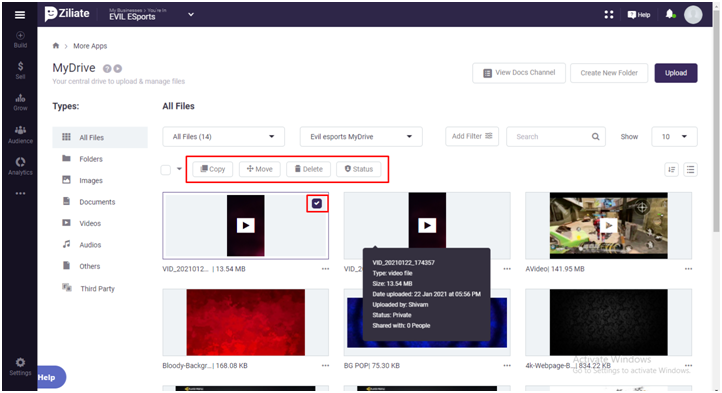 My friend if you'd like to select all files uploaded click on the box below all file option and here you will copy all files, move all files to another folder and delete all files from drive or change the privacy status of the files.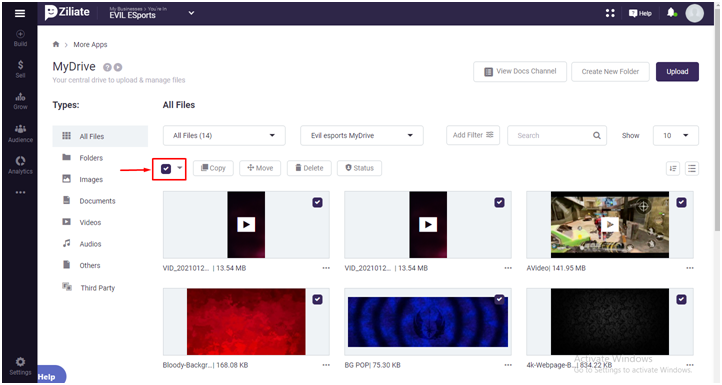 My friend to share your file click on 3 dot option which you can see here. now you can see that you also have status option here click on the status button you will find three options which are private mode public mode and password printed mode now select the option as per your need for now I am selecting private mode.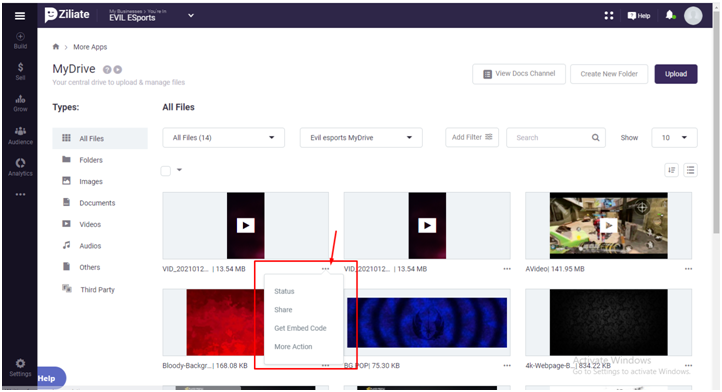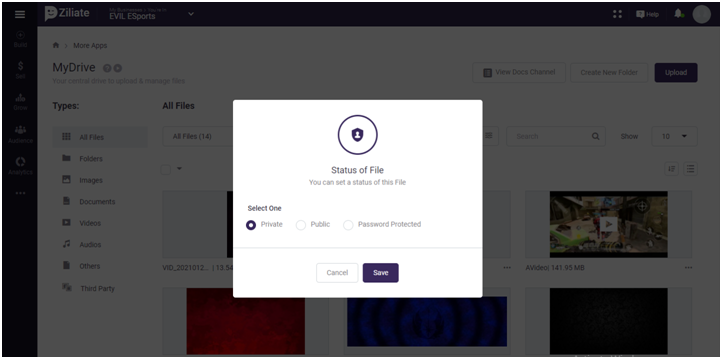 Now again click on this three dot option and click on 'Share' option. Here you will get the File URL of the video. You can also edit the file URL. Now just copy the video URL and it will be ready to use as per your business need anywhere you like.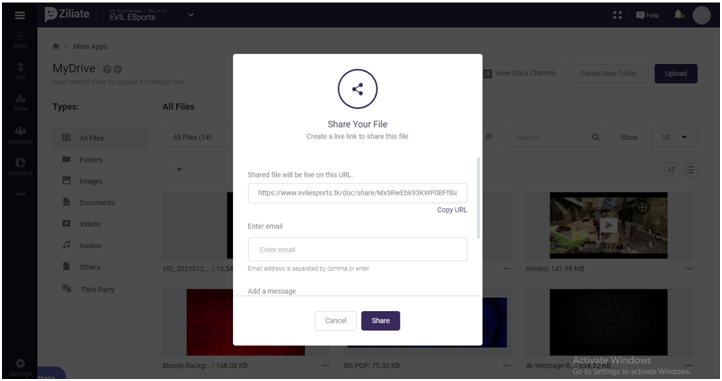 Again when you click on this three dot option you will get the option of 'Get embed code' just click on it and copy the embed code and you can use it on any of your website and blog.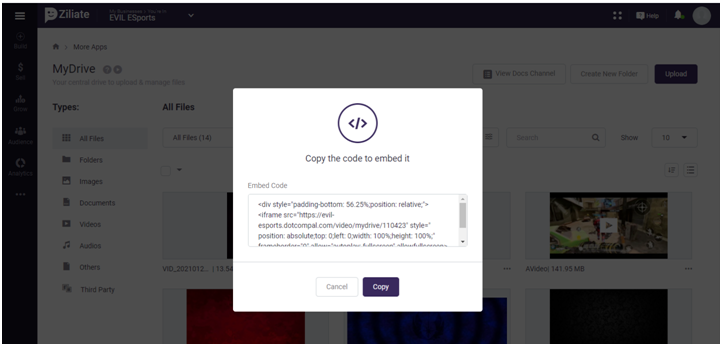 So my friends the last option when we click on this three dot menu is 'More Action' just click on it. Here you can find nine options which are copy, rename, move, download, analytics, branding, share page, replace and delete.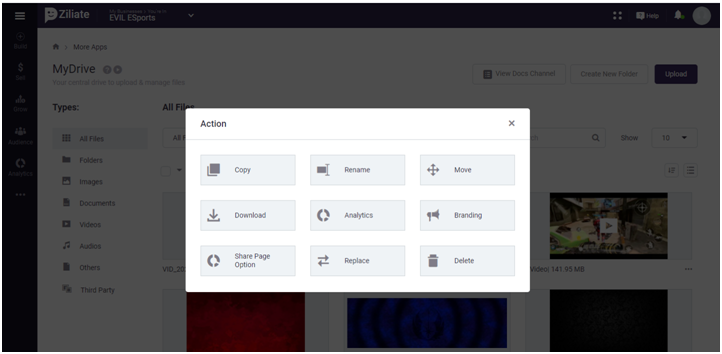 So, my friend, you see how easily you can share any file using MyDrive.
You can share any file which is in your MyDrive, with anyone at any time by just using the MyDrive on any of your device that has an internet connection.
I hope you will find this tutorial helpful. Thanks for reading.