As you are looking for more information about MyDrive, you are at the right place.
Hello Friends,
In today's world cloud storage has become one of the most convenient and efficient methods to store data online. In the last decade, cloud services have gained so much popularity in the software industry — and now every big tech company has its cloud service. No matter whether it's a small or big business, everyone requires cloud service to store data because data is the next power weapon.
In this training module I'm going to explain how you can upload your business files in DotcomPal MyDrive. From the dashboard click on the three dots which is on the left menu bar, three options will appear i.e. MyDrive, Integration, and API. Click on MyDrive.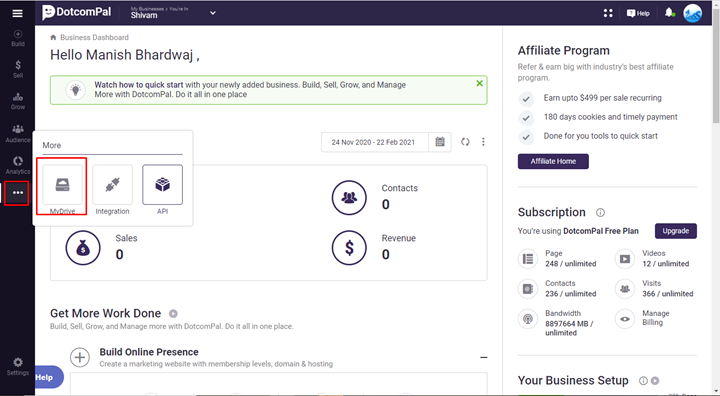 Here you will get all your business files which have uploaded as images, videos, documents, audio, or the zip files etc. This is all file section but if you want to see respective file type only like images, documents, videos or audios, you can click the respective options here.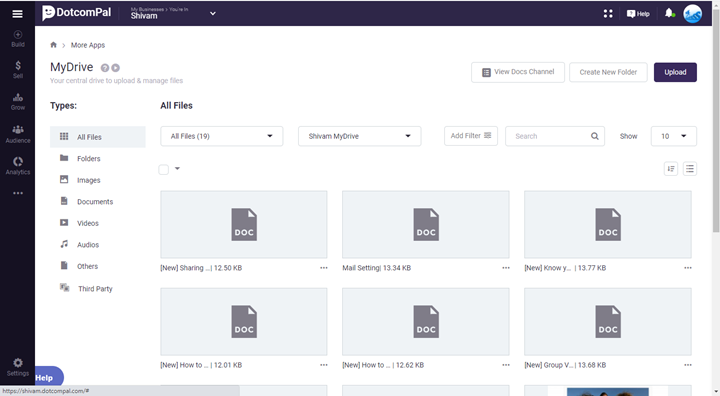 Now to view your Doc Channel you can click on this view Doc Channel button and you can see your all files which you have saved in your DotcomPal MyDrive. On Doc Channel, public and password protected files can be viewed only. Your private files will not be visible on Doc channel.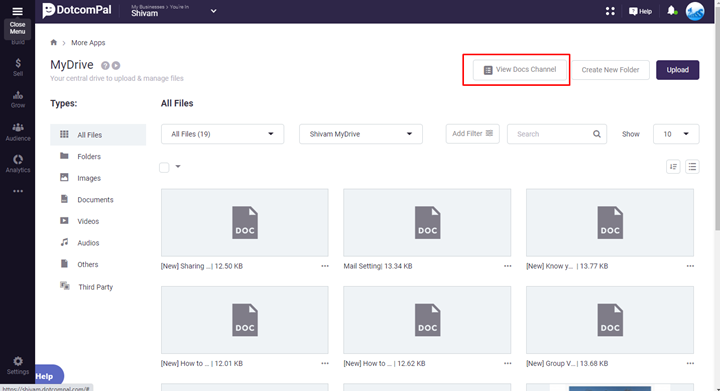 You can either create a new folder or directly upload a new file by clicking on upload button. If you wish to create a new folder you just need to click on this to 'create new folder' button, pop up window will open where you simply need to enter the folder name and then click on create. Your created folder will be shown under all folders. Folder management DotcomPal MyDrive will help you to segregate your media files as per your business convenience and to easily choose the file in any marketing campaign.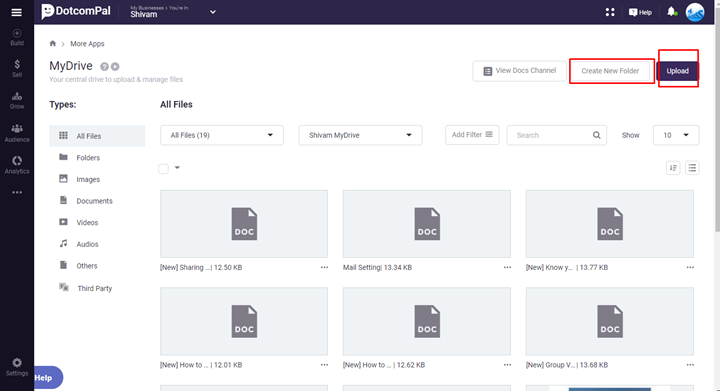 When you click on upload button, a screen will pop up where you can upload your media files into MyDrive. And when you upload the file the progress of uploaded file will be shown. At a time maximum 5 files, maximum size of 500 MB can be uploaded.
When the uploading is finished click on done. Here we would strongly recommend you to be patient as uploading time will depend on the internet speed. In case of videos and images once the file is uploaded and processed successfully the thumbnail of the respective file will be shown automatically.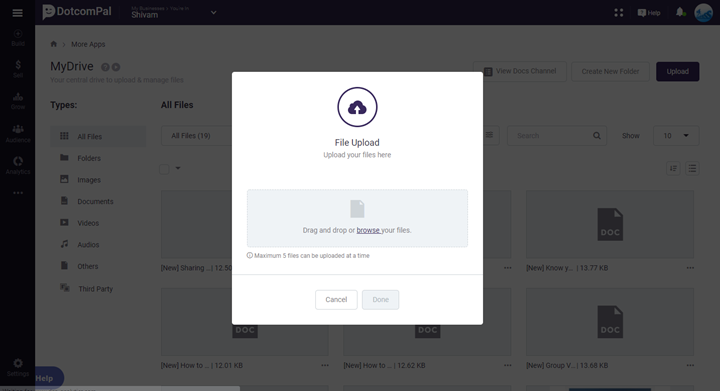 I hope this training module was helpful for you to understand the working of DotcomPal MyDrive. Thank you.